A new generation demands a
new platform.
In 2020, incoming students will have used smartphones their entire lives.
For better or for worse, students are used to mobile apps built by leading companies, and are not responsive to anything but the most well crafted mobile experiences.
54%
Emails to Students Unread
39%
Advisor Communication Ignored
Both of these numbers are trending

upward
Customize,
Govern,
Engage.
Manage event guides, send targeted push notifications, and analyze big-data analytics through your portal outside of the app.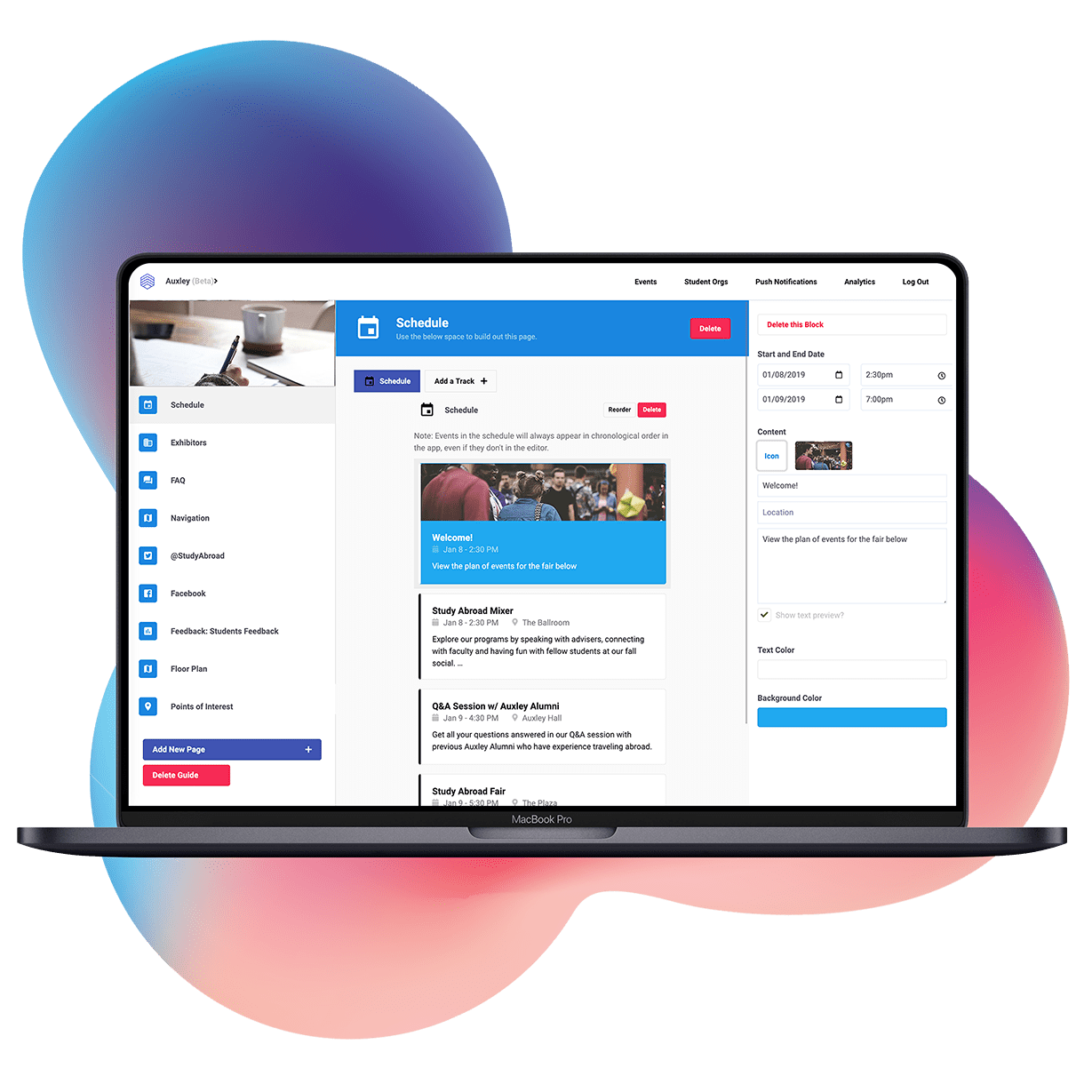 Hundreds of Happy Customers
...and over half-a-million happy students





Campus Communities at the University of Chicago
UChicago's app allows students to self-organize and develop a sense of community before even reaching campus. The app which was intended only for freshmen was downloaded by a significant amount of all attending classes.

Digitized Student Programming at Nanyang University
Singapore's top university is able to drive mobile engagement by creating unique digital experiences for their various programs. With the flexibility afforded by a digital platform, the team can properly set up programming for their diverse student body.
Built for the Modern Student Center
Our robust platform, tailor-built for Higher-Ed
Event Management

An event app solution built around Higher Ed. Distribute event guides through a single app, including invites, RSVPs, and check-ins.

Targeted Messaging

Create push notification campaigns that can be targeted to certain groups of students to get higher engagement on your content.

Social Capabilities

Enable student connections that might not have been with modern social capabilities. Profiles, social feeds, chat, and more.

Analytics

Feature usage rates, notification open rates, app usage rates. Use in-app analytics to iterate year after year.
Start working with a team that gets it
Students are a unique audience. They're on their phones more, so they're more likely to use apps. But they're also quicker to write off poorly designed experiences. Privacy is more important to them, but at the same time they're comfortable with digital communities. Take it from us, creating apps for students isn't easy. Work with us, and we'll set you, your students, and your mobile strategy for sure success.
Recent Projects
See some recent Eventus implementations below.
Recent Blog Posts
Occasional thoughts on apps and the future of Higher Ed Tech.
Interested? Send us a Message.
Ask what we can do for you
Contact Us