Eventus.io —
Our Virtual Solution for

Career Fairs
Built around a flexible digital booth system and video chat bookings, the Eventus solution is easy to pick up for Universities, Employers, and Students alike.
Read More Below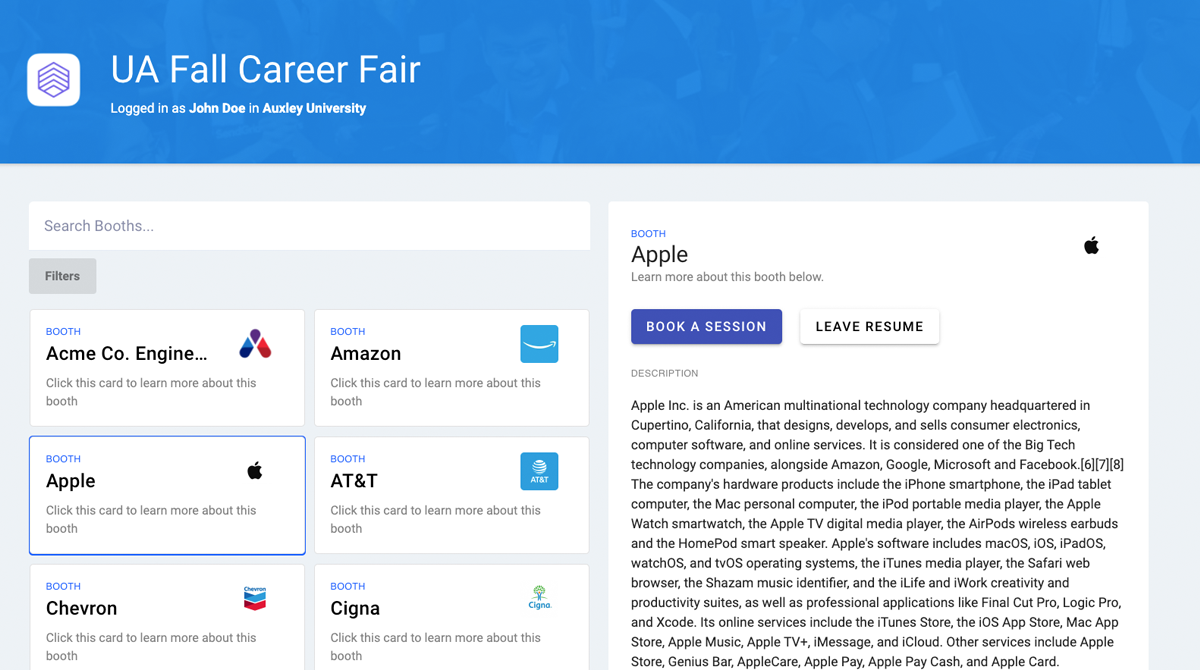 Digital Booths
Just like at a Physical Fair, simply provide Employers with a table (digitally) for them to personalize.
Instead of banner stands and tablecloths, Recruiters will set their digital booths up with an icon, banner image, and description.
Video-Powered 1-on-1 Sessions
Just like at a Physical Fair, networking will take the form of a 15 minute conversation, but powered by Video instead.
Calls are scheduled in advance through a booking system, so the experience goes smoothly for both employers and students.
How it Works
A Three Step Process
Step 1: Pre-Event Setup
2-3 Weeks Before the Event
Set up your event details

. This can be as easy as just a name, a description, timeframe and a logo.

Invite your Recruiters

via a simple interface where you enter their emails.

Recruiters receive an email invite that includes instructions and credentials for setting up their digital booth.
Step 2: Fair Registration Opens
1-2 Weeks Before the Event
Students are invited to the event

via email. There is a brief sign-up process after they read your event description.

Students upload their resumes and book time slots

for calls with the employers.

Employers make their own preparations

by reviewing resumes and profiles of students who have signed up for their slots.
Step 3: Virtual Fair Day
...the day of the event!
Employers and students have booked calls and/or workshops

, with automated reminders before their session via email.

Send out a post-event survey

in the event app/website after the event, so you can make your next virtual event better!
For Your Recruiters:

a Foolproof Experience
Recruiters come in all shapes and sizes, and tech savvyness.
Our three step process is built around making things as simple as possible for your Recruiters.
---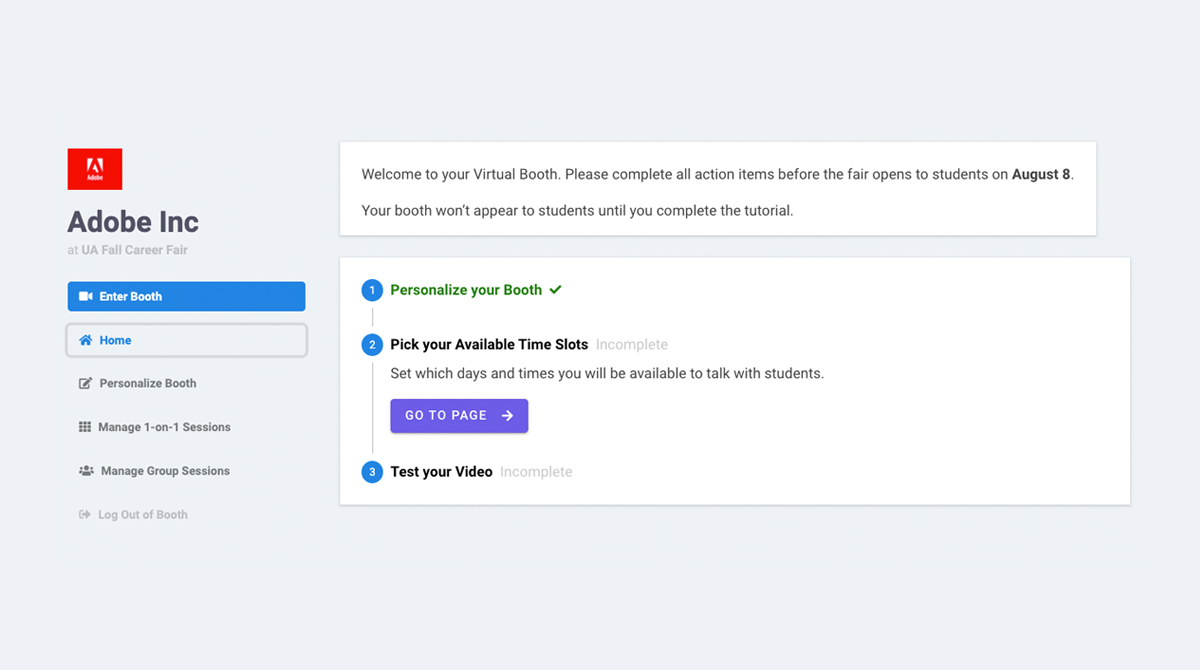 Step 1
After logging in, Employers fill out a simple and straightforward onboarding process to set up their digital booth.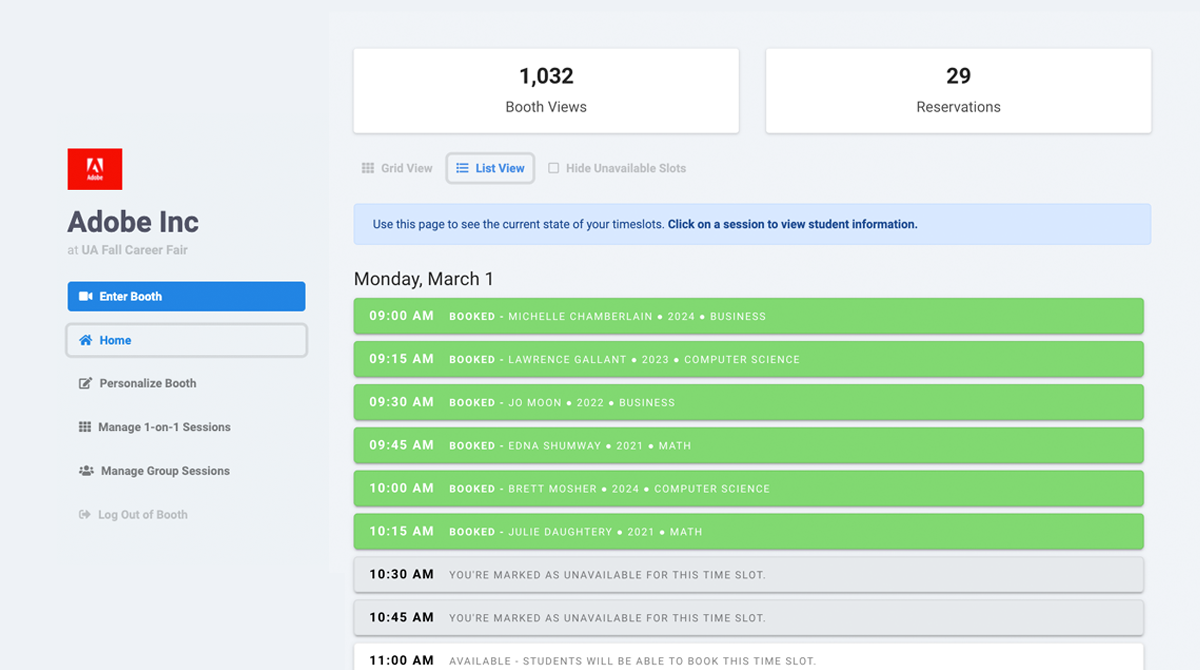 Step 2
Once the fair opens, students make bookings with their booth. Recruiters can then browse student information like resume, year, and major.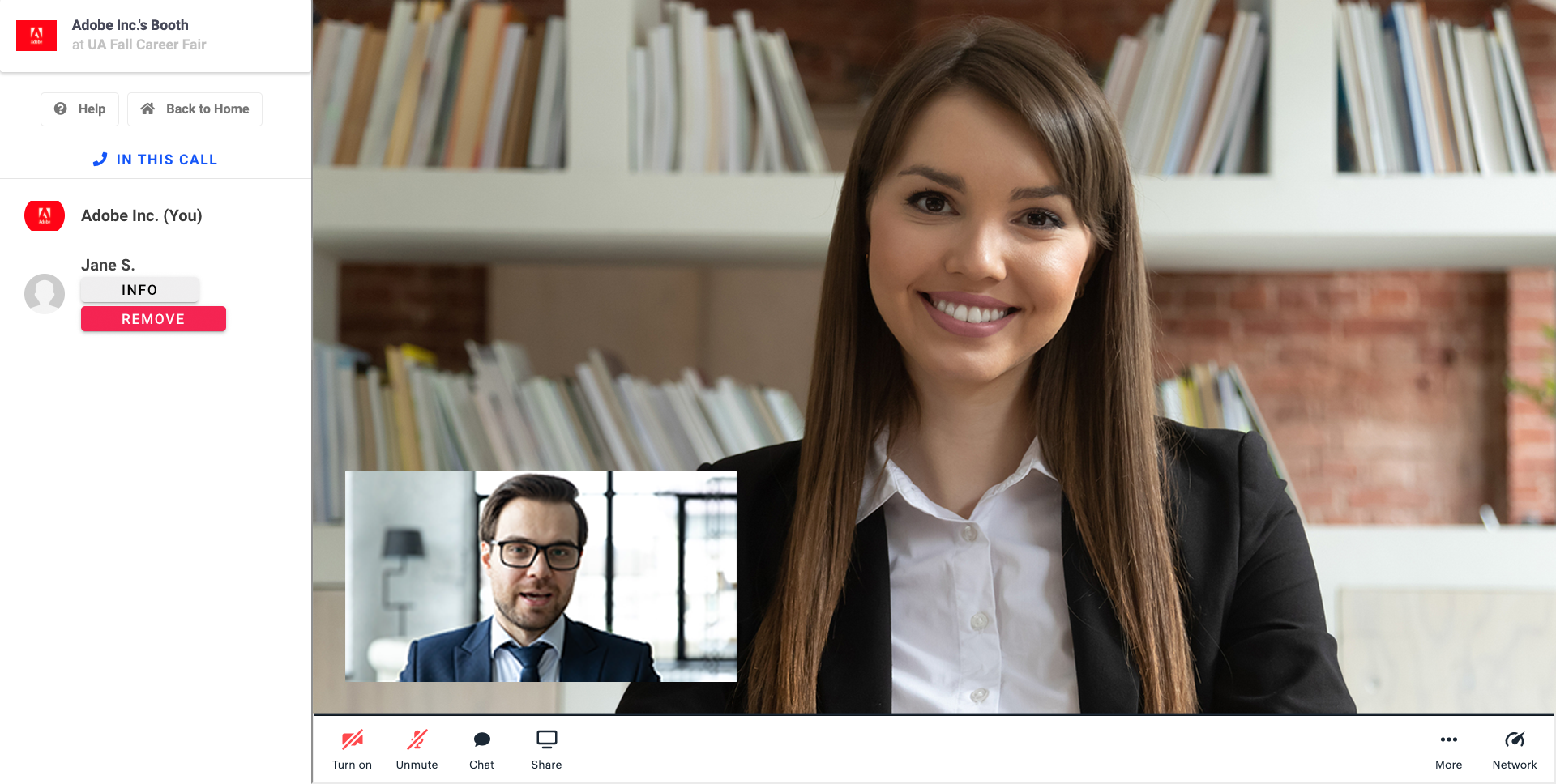 Step 3
On the day of the fair, Recruiters hold their sessions with students. They can either use their own Zoom/Skype link, or use the one provided by Eventus.
For Your Students: A Seamless Virtual Fair
Our Single-Page Virtual Fair Interface makes it easy for students to quickly browse through recruiters without constantly reloading the page. Once a Booth is Selected, Students can see that Recruiter's information, Book a Session, or even Leave their Resume at the booth just like at a Physical Fair.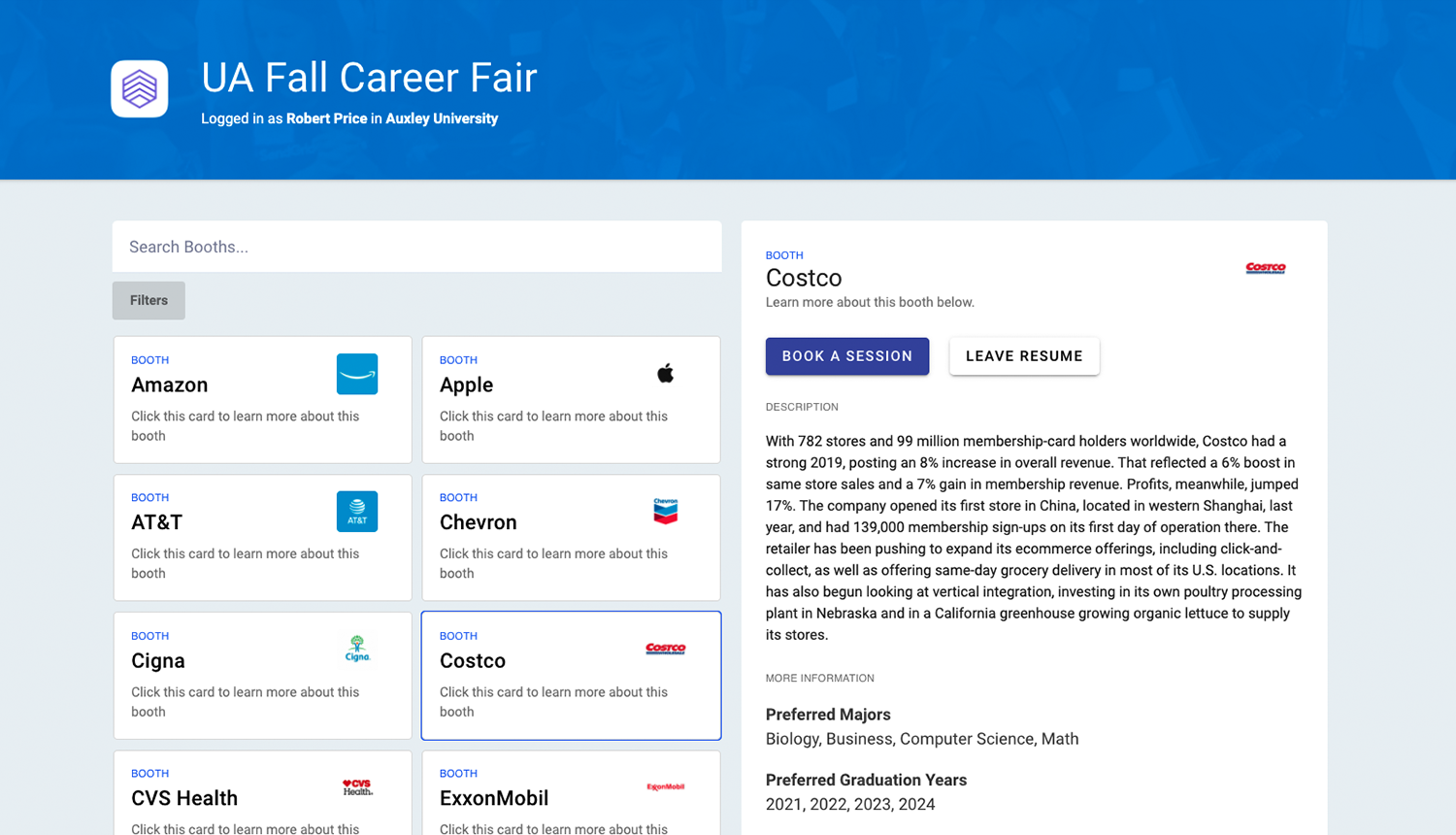 Easy-to-Browse Virtual Booths
The Currently Selected Booth
Product Screenshots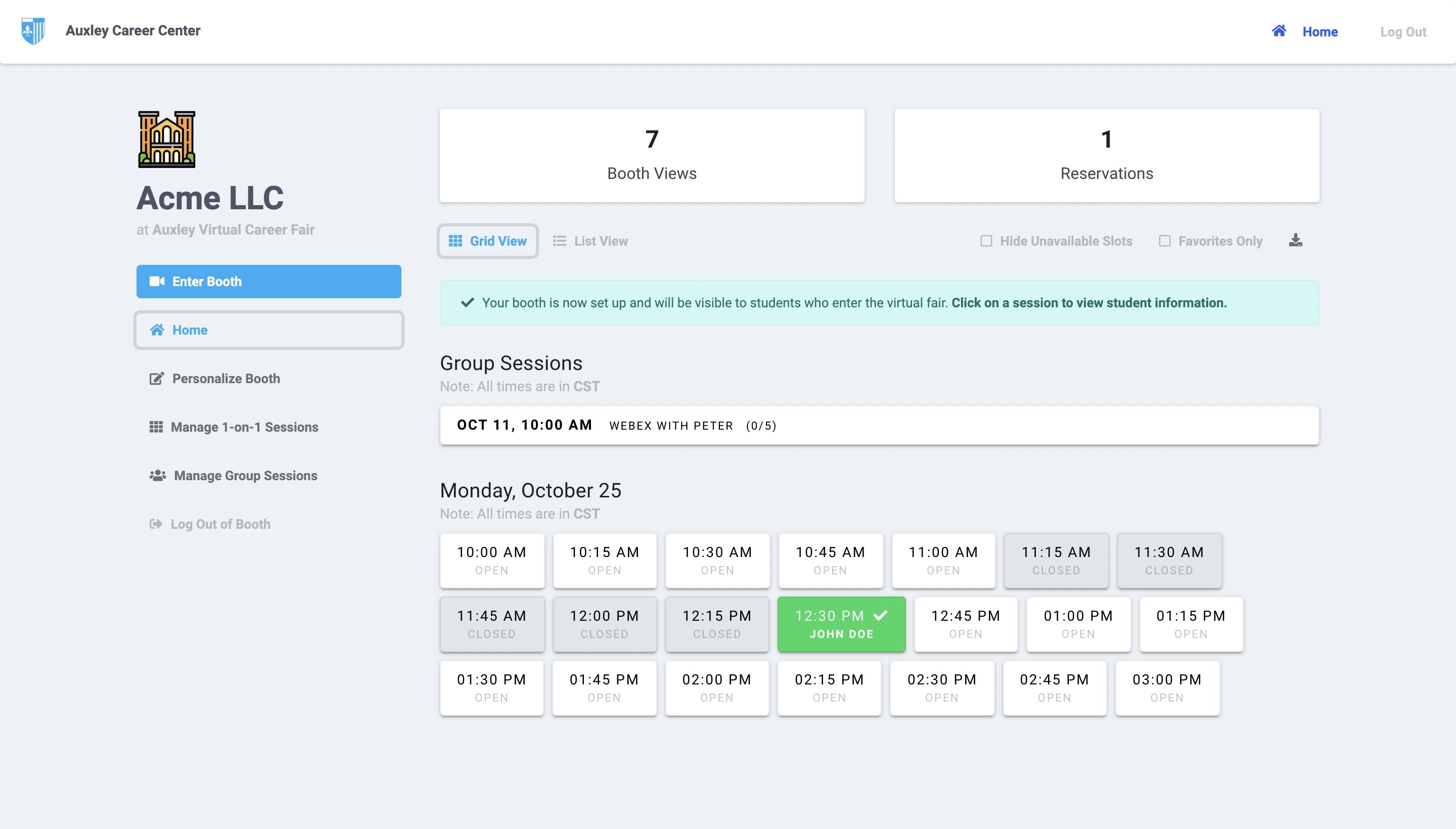 Employers can see and manage their sessions with students.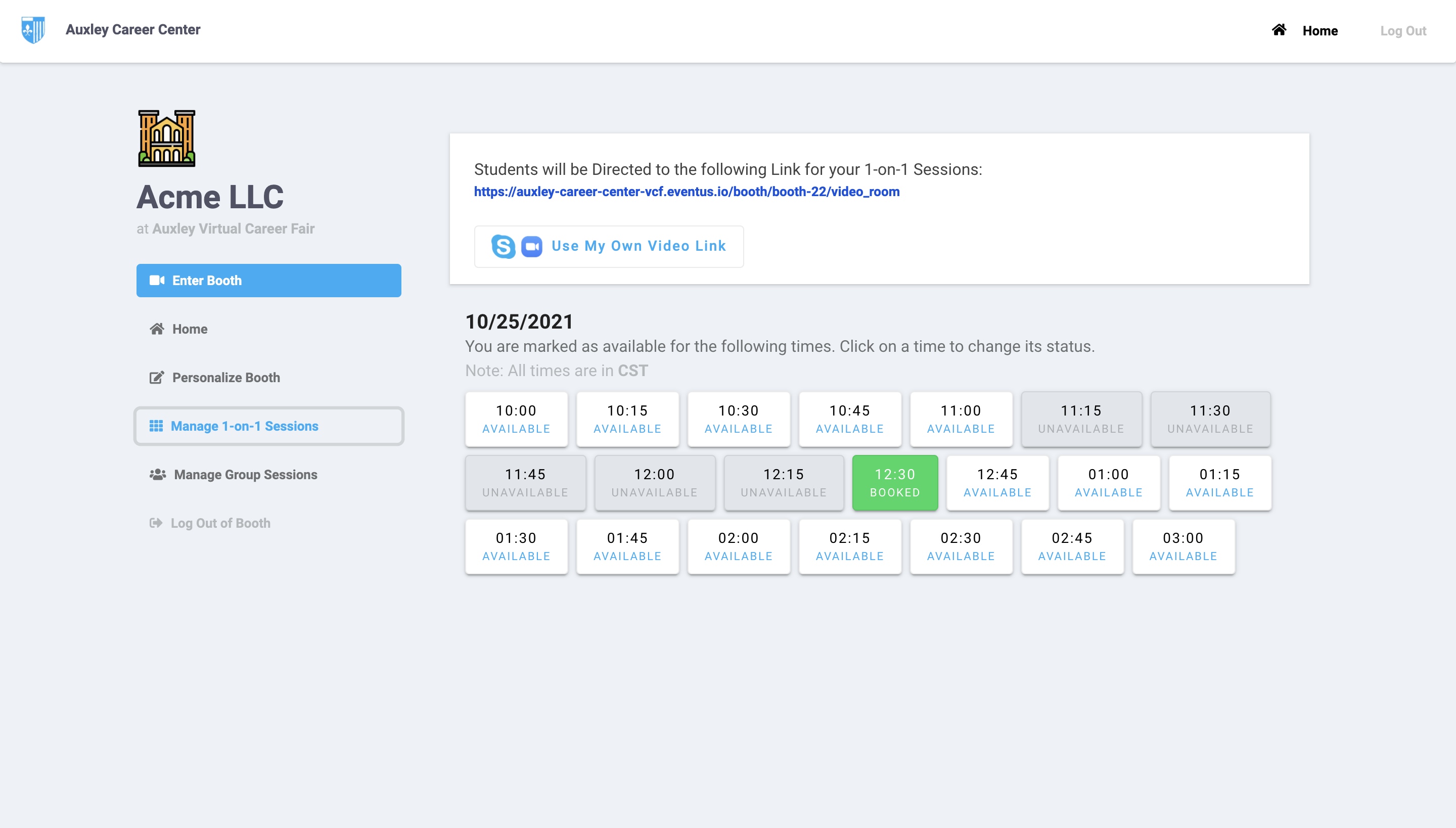 Employers can choose what times to be available on the day of the fair.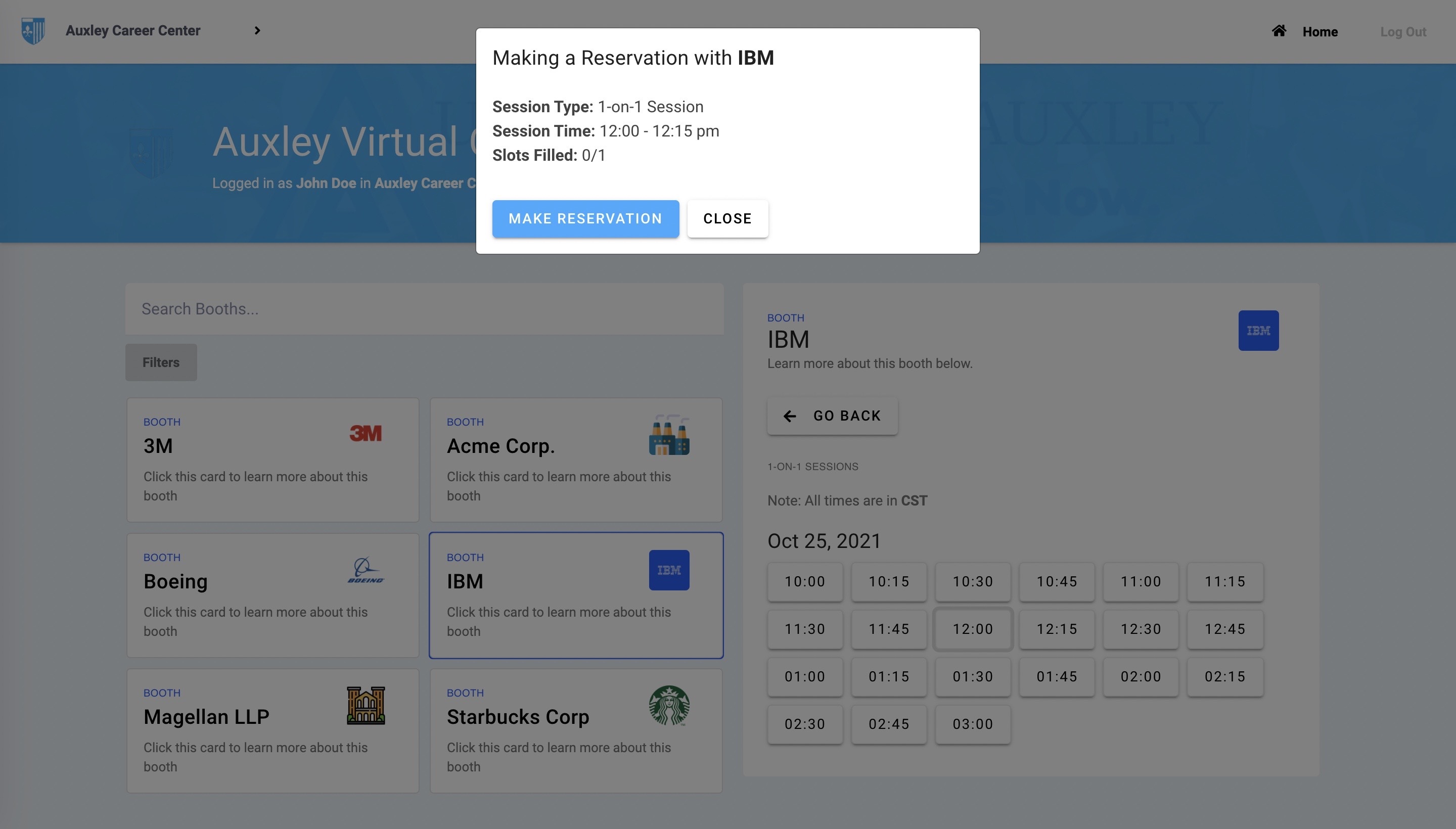 Students can reserve interview sessions with employers they're interested in.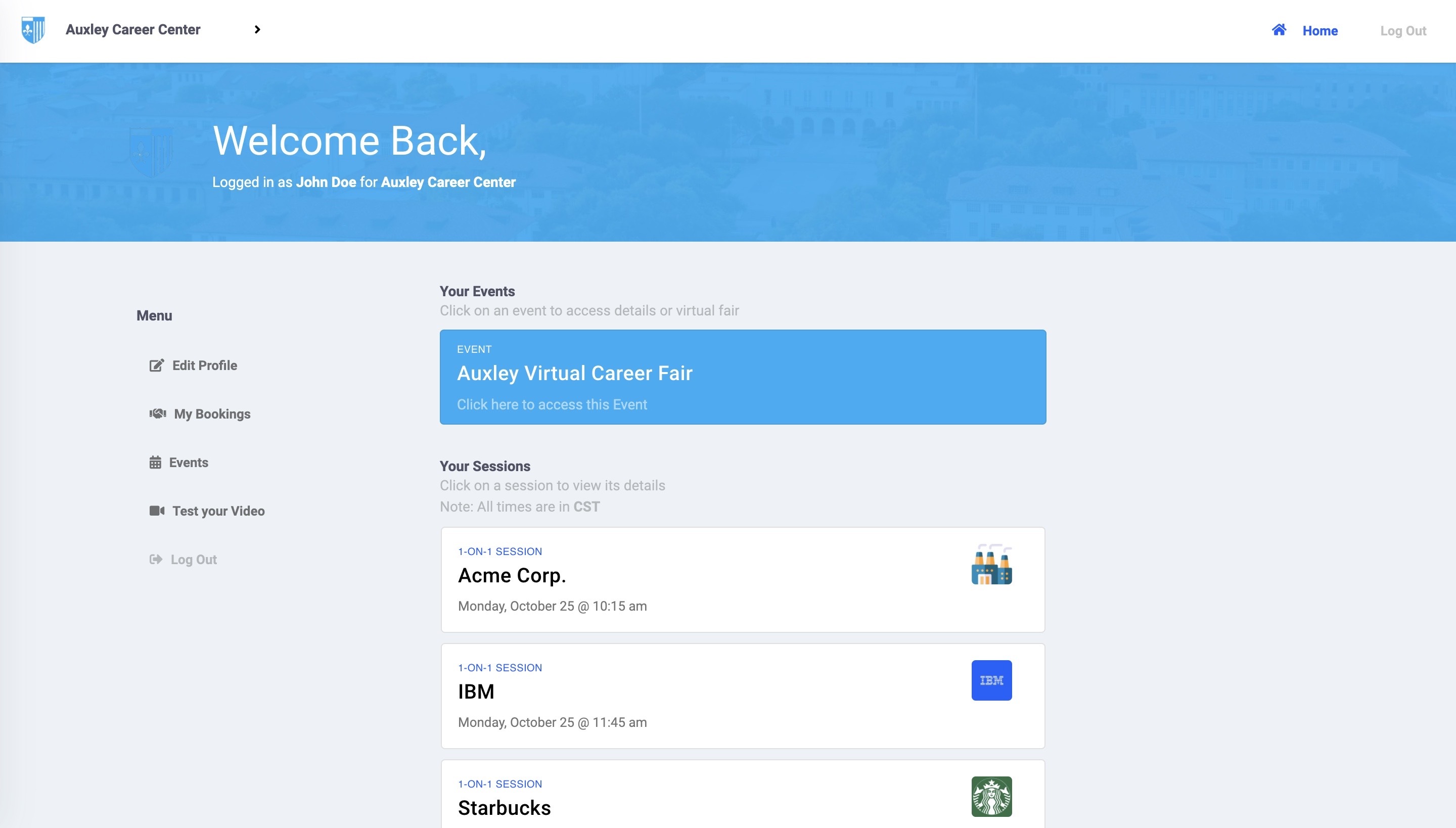 Students can see their upcoming fairs and reservations on their Home Page.
Trusted by Leading Institutions
Working with Eventus has been great. As their first [Virtual] Canadian client, I am proud to say that they've left a lasting impression with their steadfast product, prompt responses, trouble shooting capacities, strong client relations and approachability. What started as an introductory collaboration at my unit has now expanded to a larger scale and Eventus is now offering their services to various departments across my campus. I would definitely recommend that Eventus be considered as a strong option for your institution's needs for any career fairs and similar events.
Everything worked beautifully with the sessions. The students followed the instructions we noted in the system and joined our Zoom session. We had some really good discussions with everyone and we're excited to see them hopefully apply this week for our opportunities.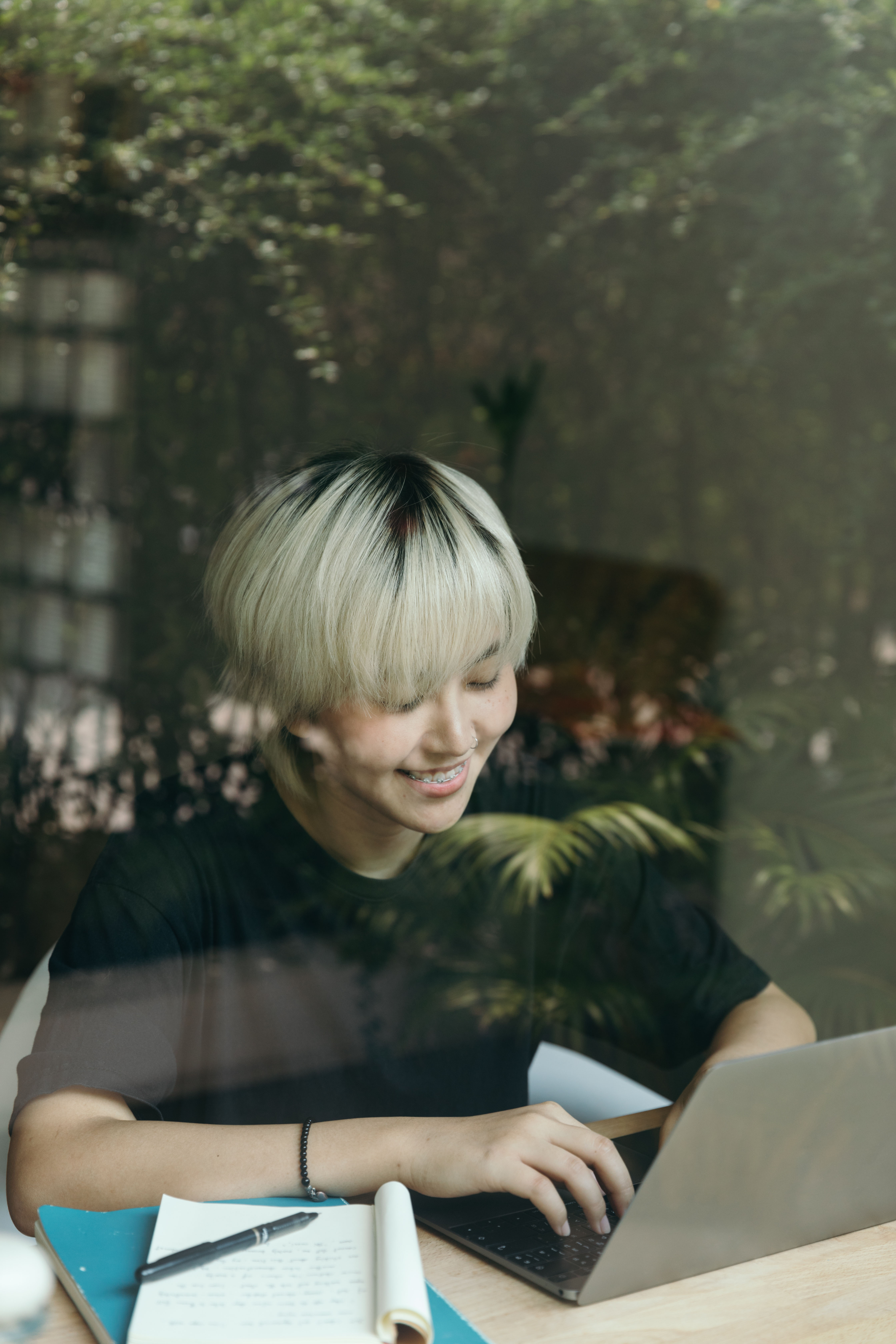 Make your Next
Virtual Fair a Success
Eventus.io makes Virtual and Physical Event Solutions for Higher Ed. Used by over 100 leading universities internationally.
If you would like to implement or have any questions about our Virtual Career Fair Product, please inquire below.