Our One Stop
Virtual Career Fair

Solution
How It Works - Our Three Step Process for the Perfect Virtual Career Fair
Step 1: Set Up Your Event
3 - 4 Weeks Before the Event
Set up your programming

in our event builder. Then send out dates, tips, and checklists with a simple event link to students.

Add employers into your event

, and set up their interview slots, major restrictions, and rsvp limits.
Step 2: Engage Your Students
1 -2 Weeks Before the Event
Students read through your programming

to understand how to prepare for your virtual fair.

Students upload their resumes

and book interviews with employers.

Employers make their own preparations

by reviewing resumes and profiles of students who have signed up for their slots.
Step 3: Launch your Fair
...the day of the event!
Employers and students start their pre-scheduled interviews

and workshops with automated reminders ahead of time.

Your staff can send out real-time notifications

for general announcements or reminders to specific students.

Send out a post-event survey

in your virtual event, so you can make your next one better!
Easily Set Up Pre-Event Programming
Use our highly functional Content Management System (CMS) to quickly set up programming for your virtual career fair.
Create a virtual home for your event programming that students can easily walkthrough. Everything from event schedules, interview tips, and elevator pitches can be included to prepare your students for the virtual fair.
Once done, simply share your event link to students so that they can review it ahead of time.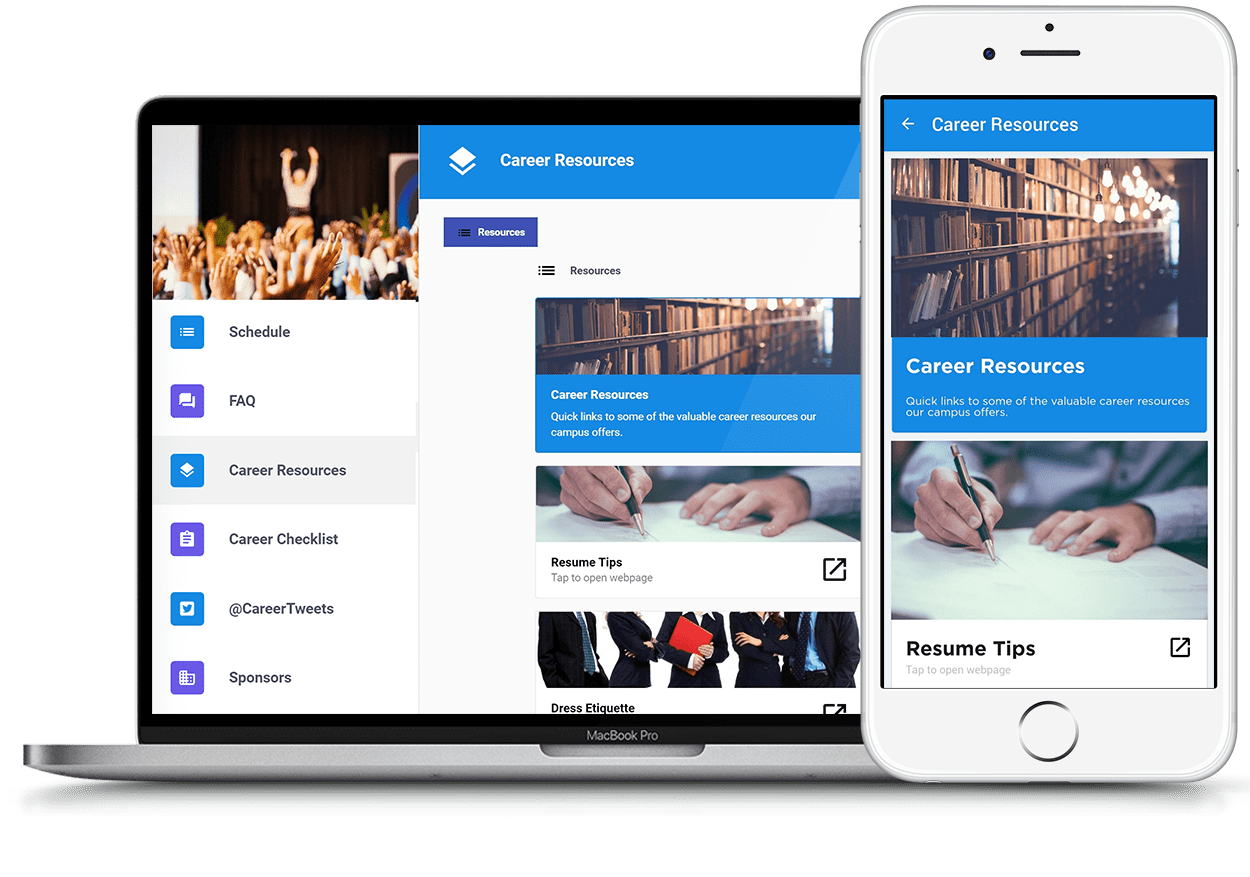 Streamline Interview Scheduling
Set up interview slots for your employers so that pre-screened students can RSVP for phone or video interviews.
With Eventus, your team can set up employer interview slots, student waitlists, and sign-up limits to ensure that your employer interviews are properly filled. Additionally, students will automatically be notified ahead of time so that interviews don't fall through the cracks.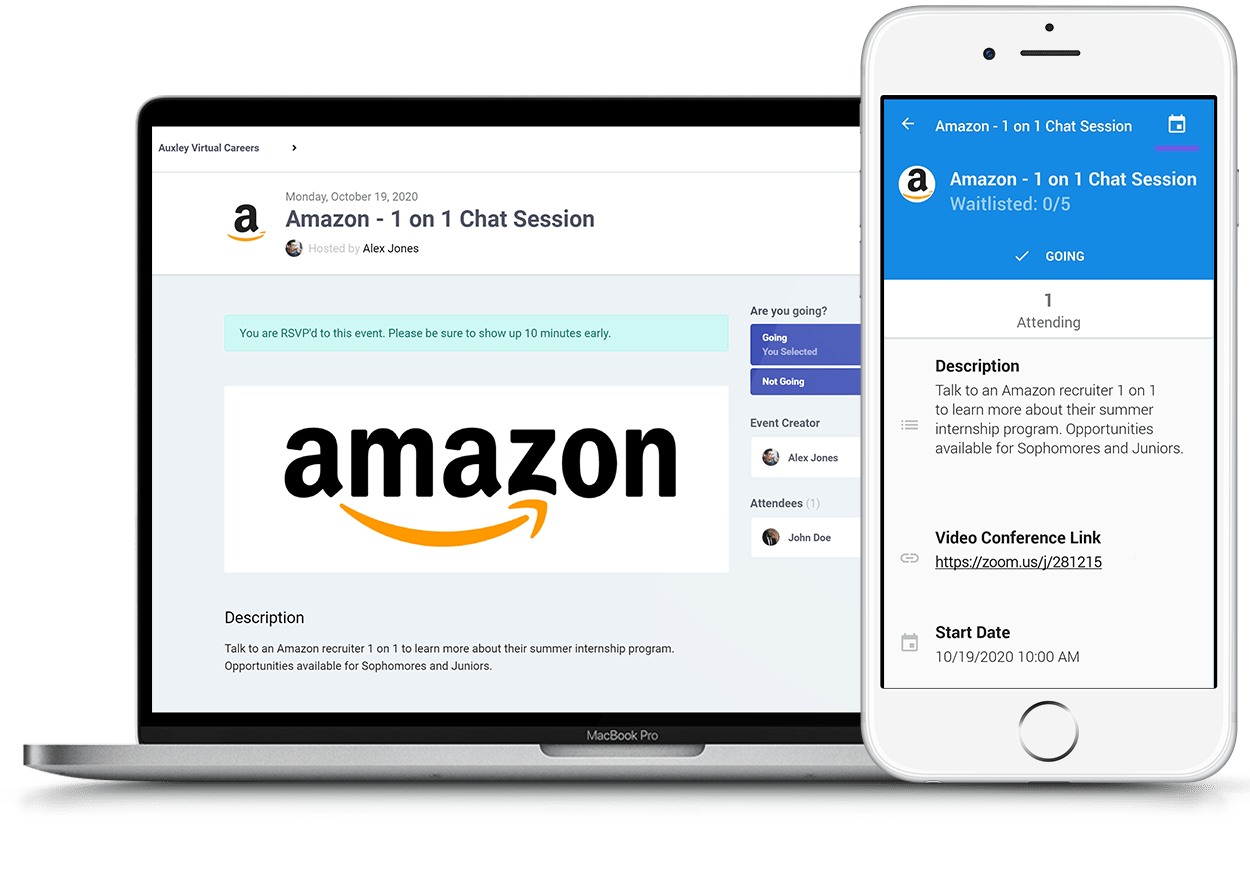 Set Up Interview Reminders
No shows waste your recruiter's time and keep other students from valuable opportunities.
With our reminder system, you can send out targeted push notifications to remind students about their interview sessions. To streamline these reminders, you can even set up automatic notifications to remind students ahead of their interviews.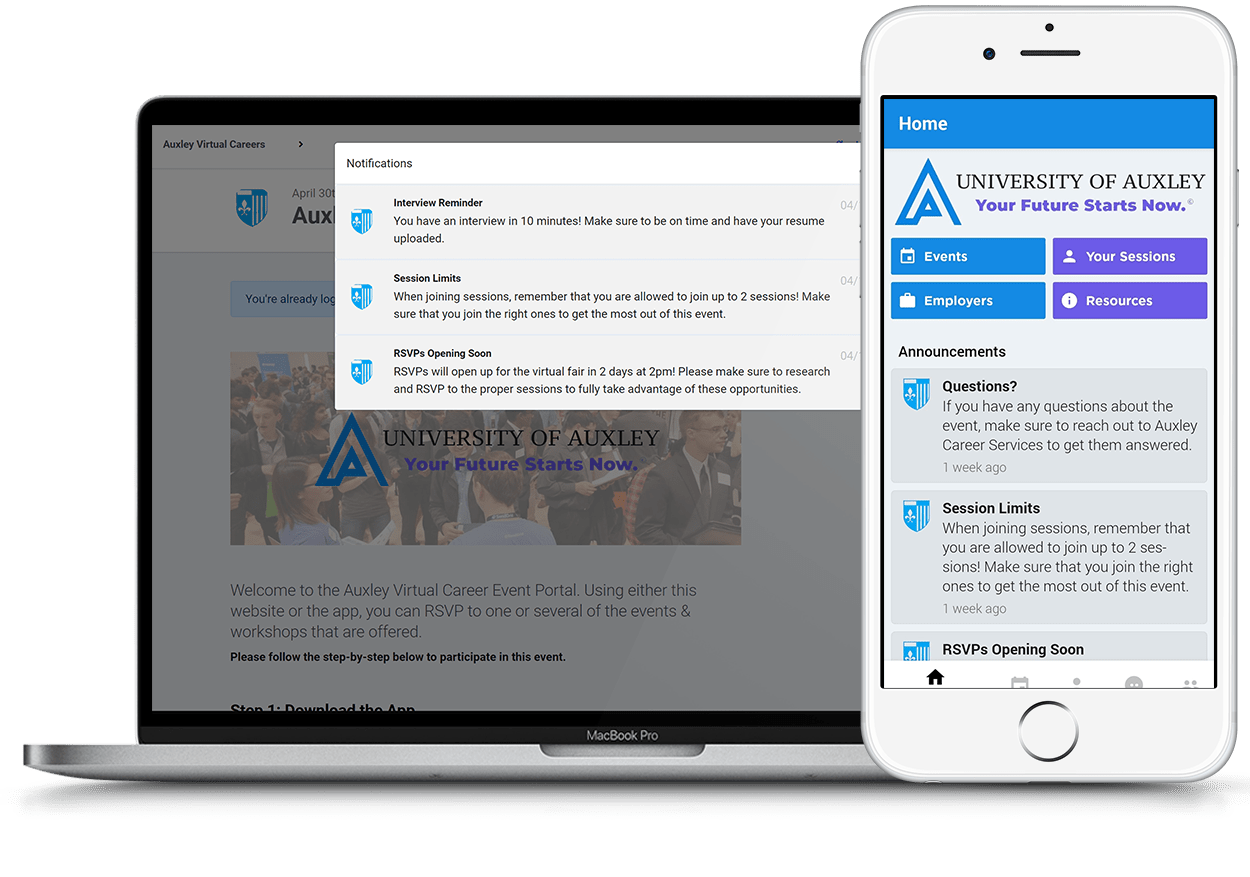 Automate Resume Collection
Students can upload and share resumes straight through the virtual fair
When a student signs into your virtual fair, they will be prompted to provide a resume. This resume will be shared with employers when students sign up for interviews and chats. That way, employers can get a better understanding of your students ahead of their interviews and make effective use of their time.