Background
McGill University is one of Canada's most well-known institutions and is internationally recognized for the quality of its teaching and research programs. Boasting 12 schools and faculties, McGill attracts much diverse talent from around the world.
With such a large student body, school-wide fairs and events are essential components of the local community fabric to help students meet their job searching needs. However, with the sudden arrival of Covid-19, McGill had little time to adapt their event programming for the 2020-2021 school year.
The Need to Adapt
Out of well-placed concern for spreading the virus, social distancing and new safety guidelines made events such as career fairs, orientation, and open house impossible to host in the typical fashion. McGill needed a virtual solution to make such events possible again.
McGill wanted foster and build important relationships and connections for their student body in an acceptable way during the pandemic, so they reached out to Eventus.
Transitioning to Virtual with Eventus
To adapt the university's event programming, McGill used Eventus' streamlined feature set to enable the exact digital outcomes they wanted.
Here are a few examples of events that used the Eventus.io solution:
McGill's Fall 2020 Orientation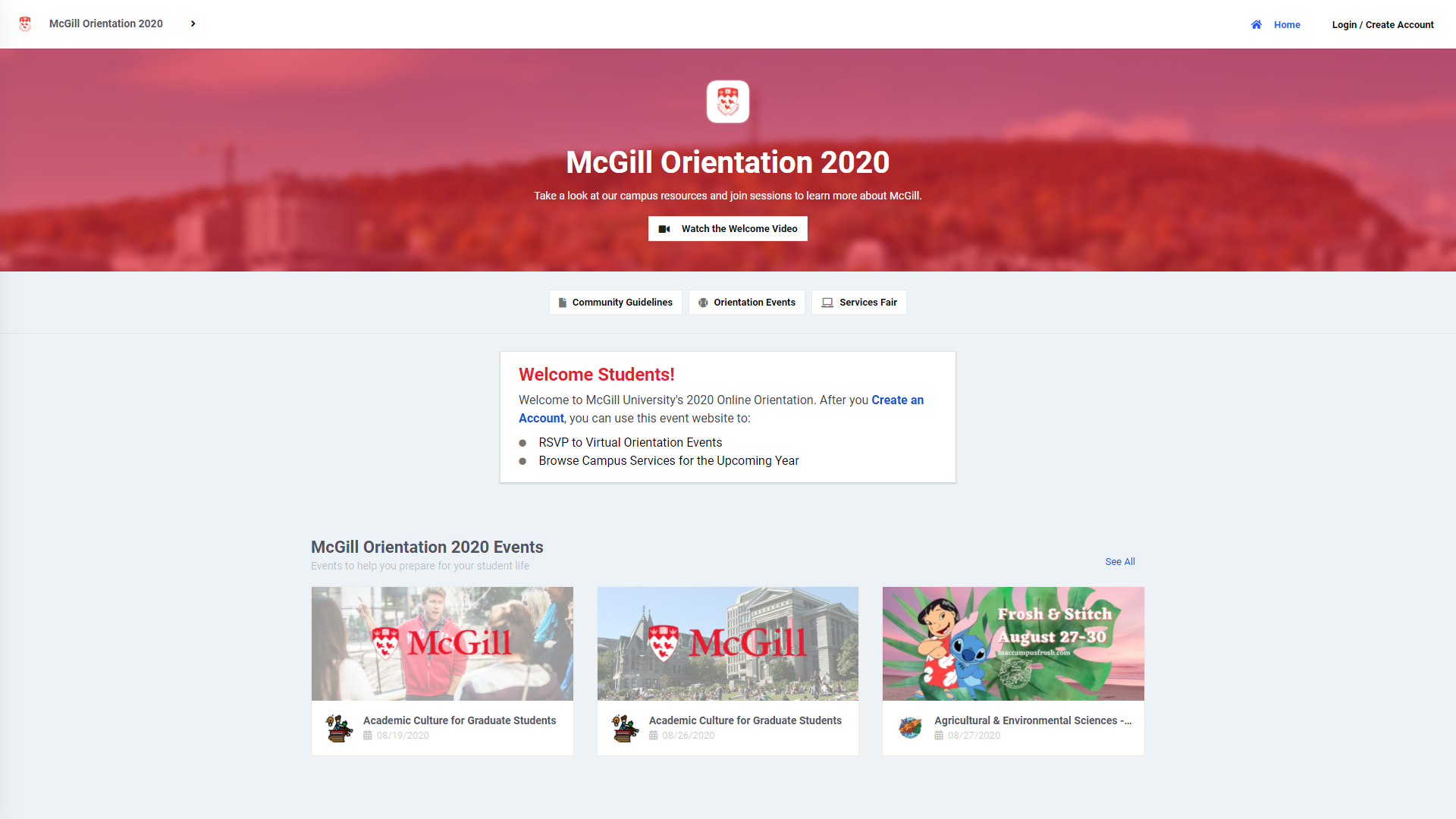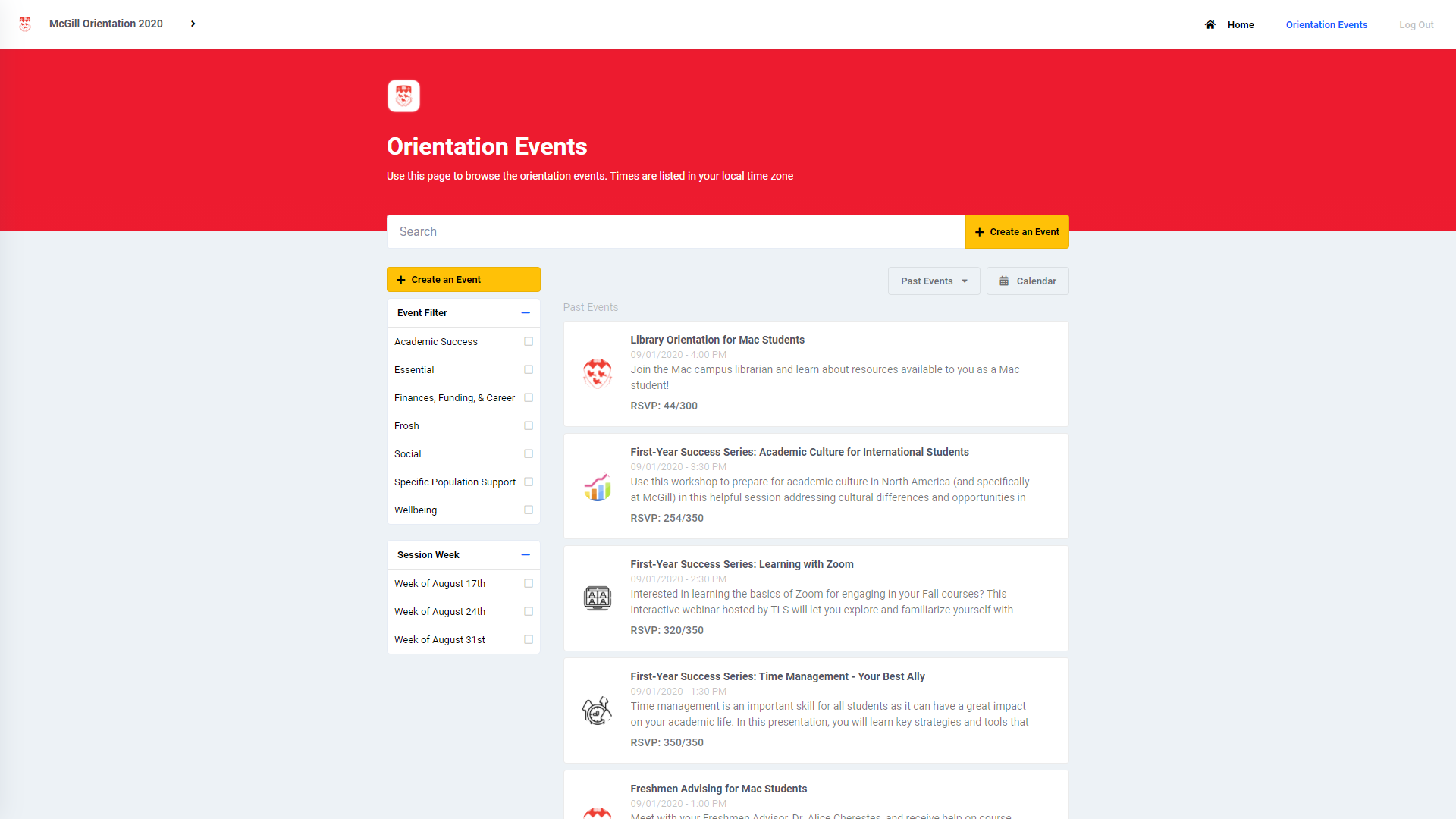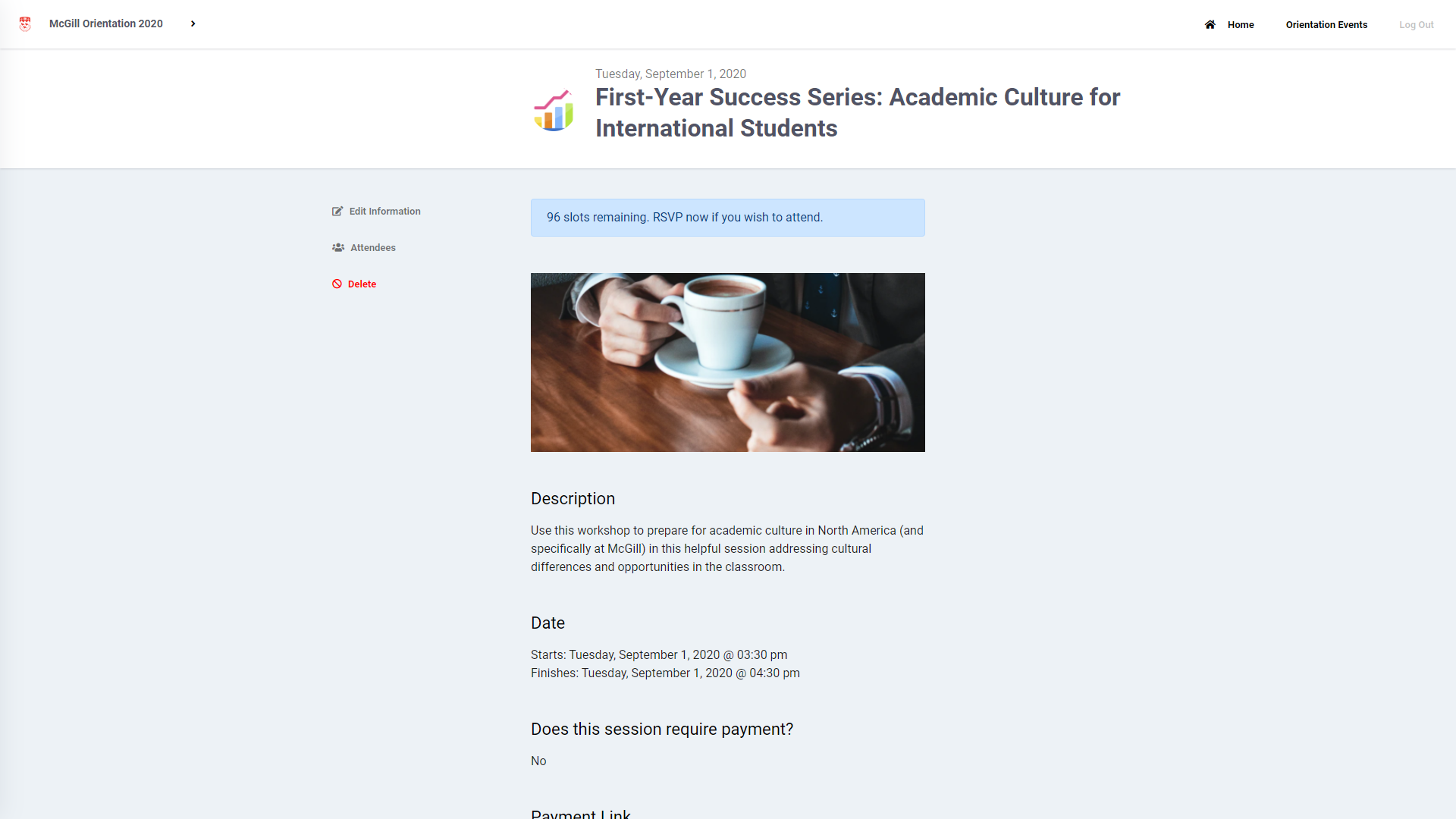 Newly enrolled students needed to be introduced to faculty and staff to properly prepare for the upcoming year. The McGill Orientation was powered by several Eventus features including Digital Booths, Instant Messaging, Dynamic FAQ, Session & Workshop RSVP management, and Resources Guides
Digital Booths
McGill staff & faculty created digital booths to share information about their programs and give students an easy way to peruse the services that McGill had to offer its first years & transfer students.
Instant Messaging
To connect with someone in real time, students and staff had the ability to text chat in real-time during specified time frames of the event.
Dynamic FAQ
Students had the ability to ask questions in real time which in turn would be added to a dynamic FAQ.
RSVP management
McGill used Eventus to manage their various workshops and sessions so that students could RSVP to pertinent programs ahead of time and be given reminders to join the proper video rooms.
Resources Guides
McGill staff digitized their information into a digital resource guide for students to easily access. Such information included FAQs, maps, schedules, social media, etc.
McGill Engineering Career Fair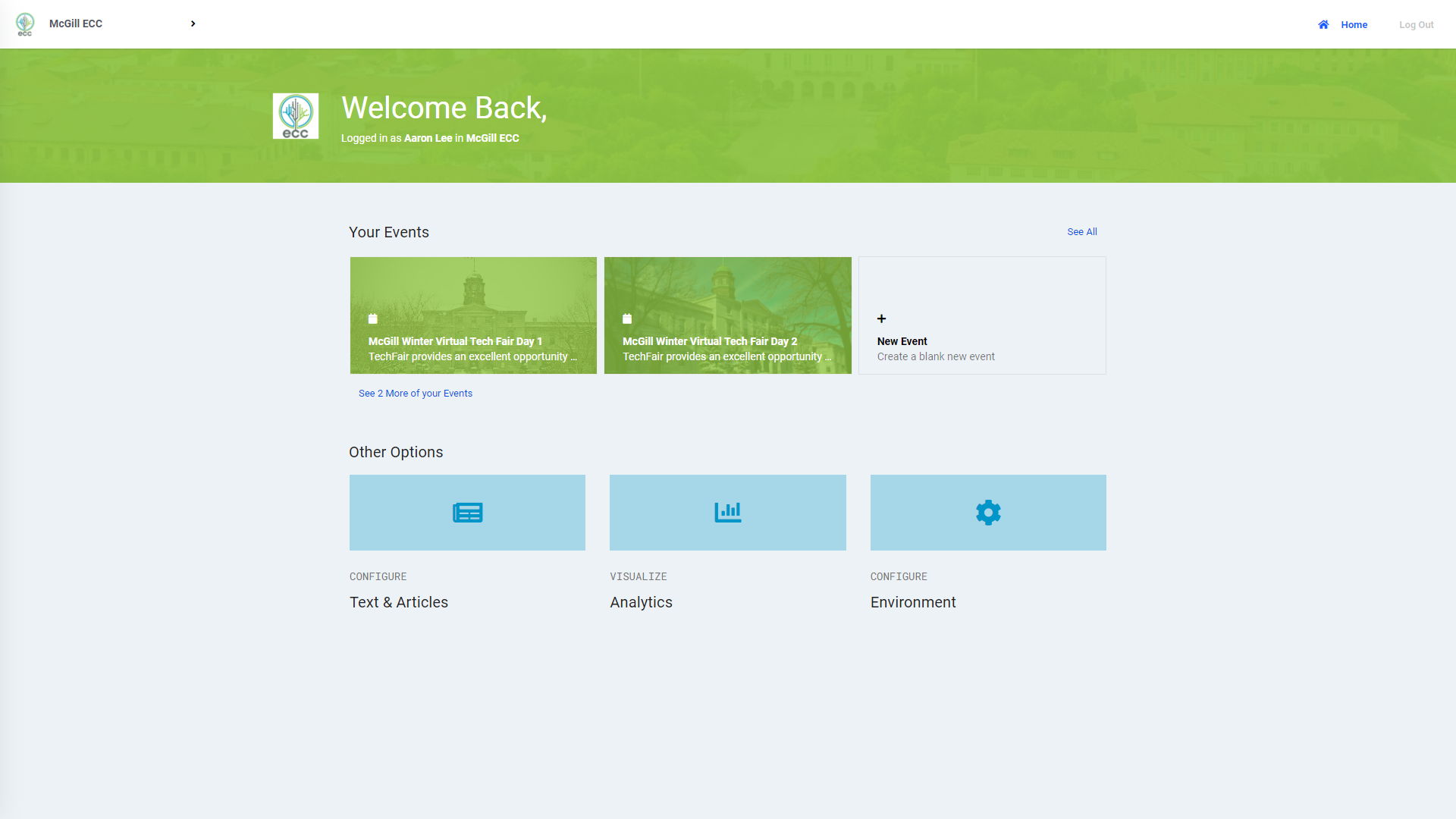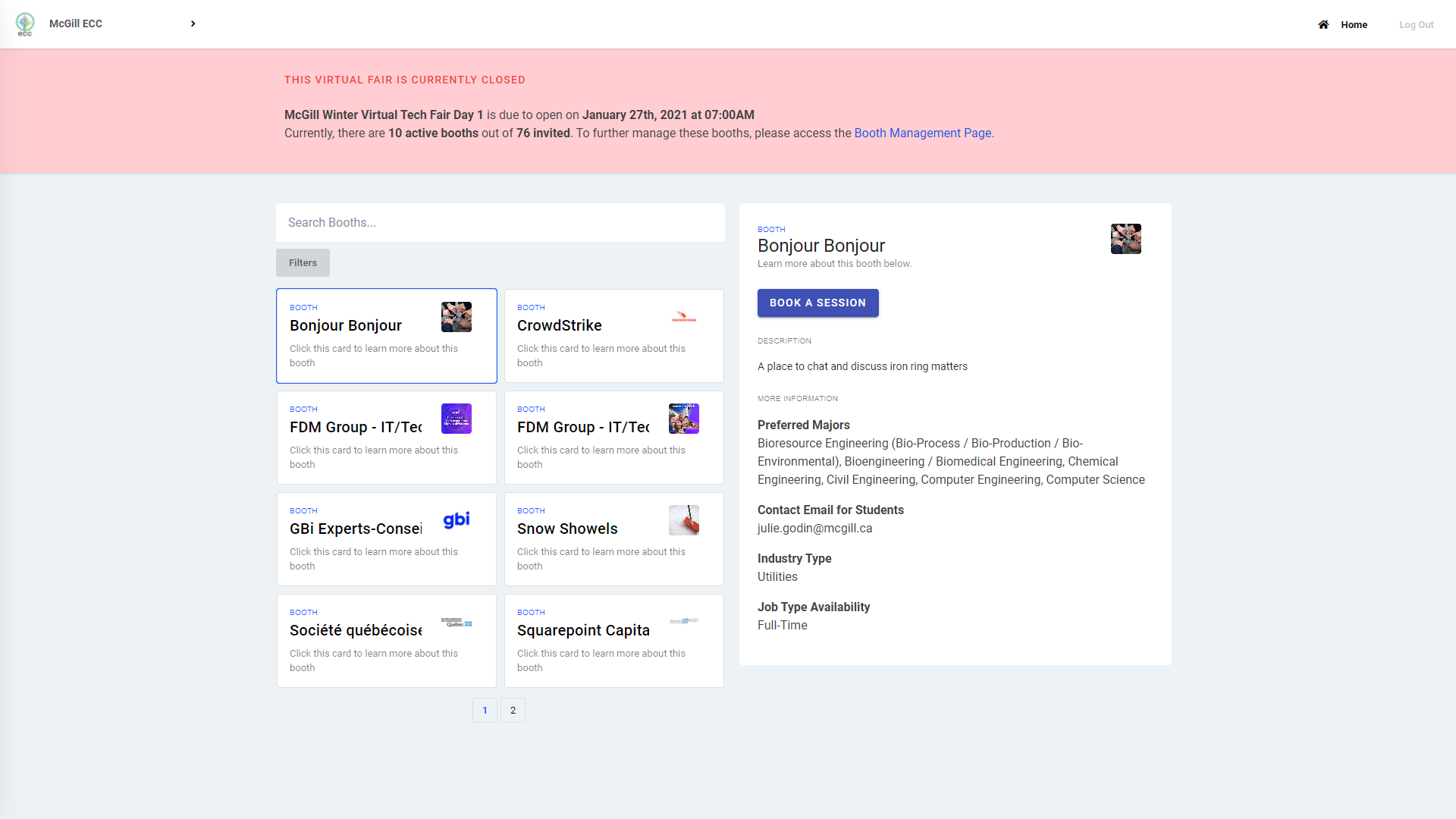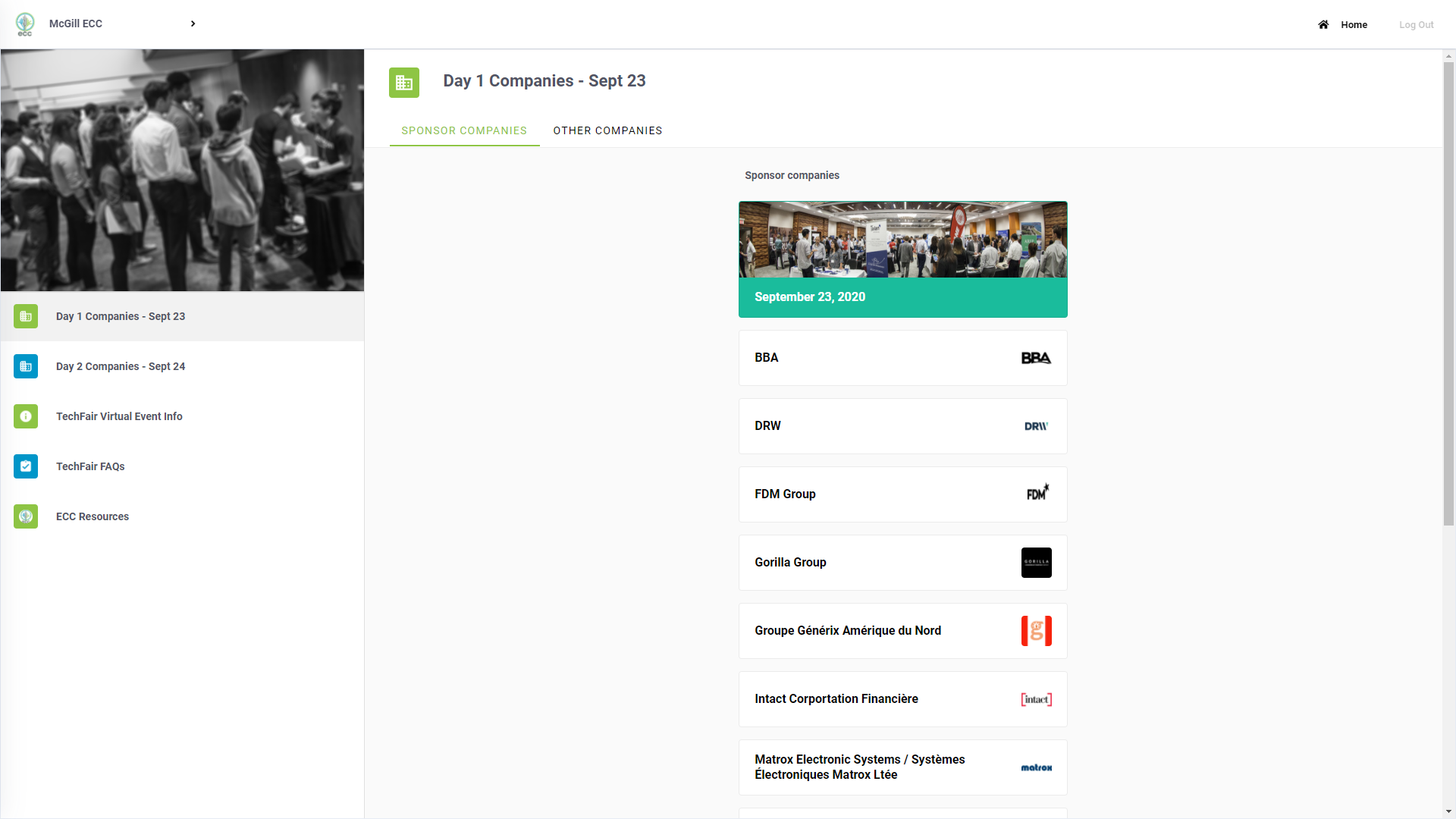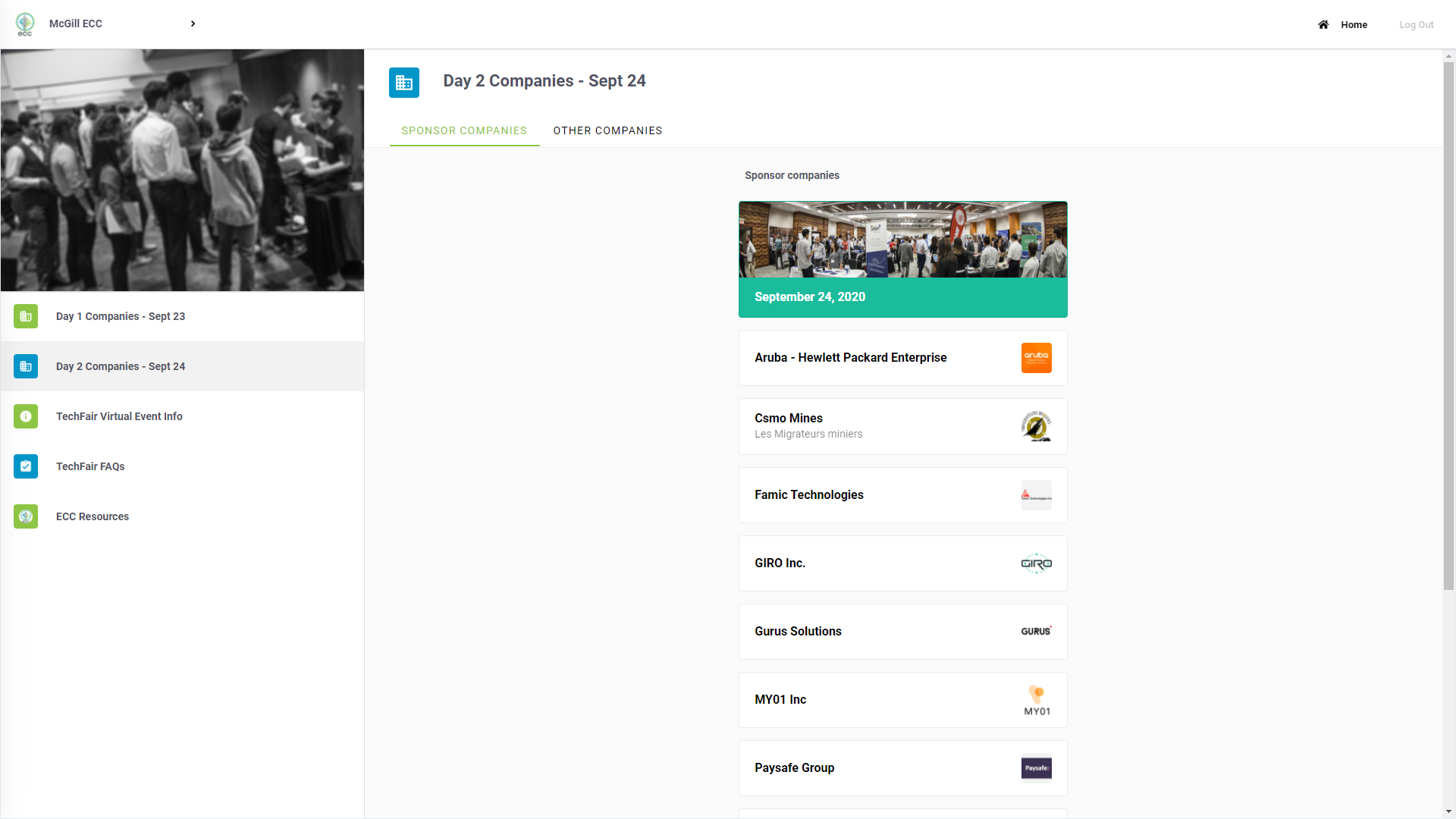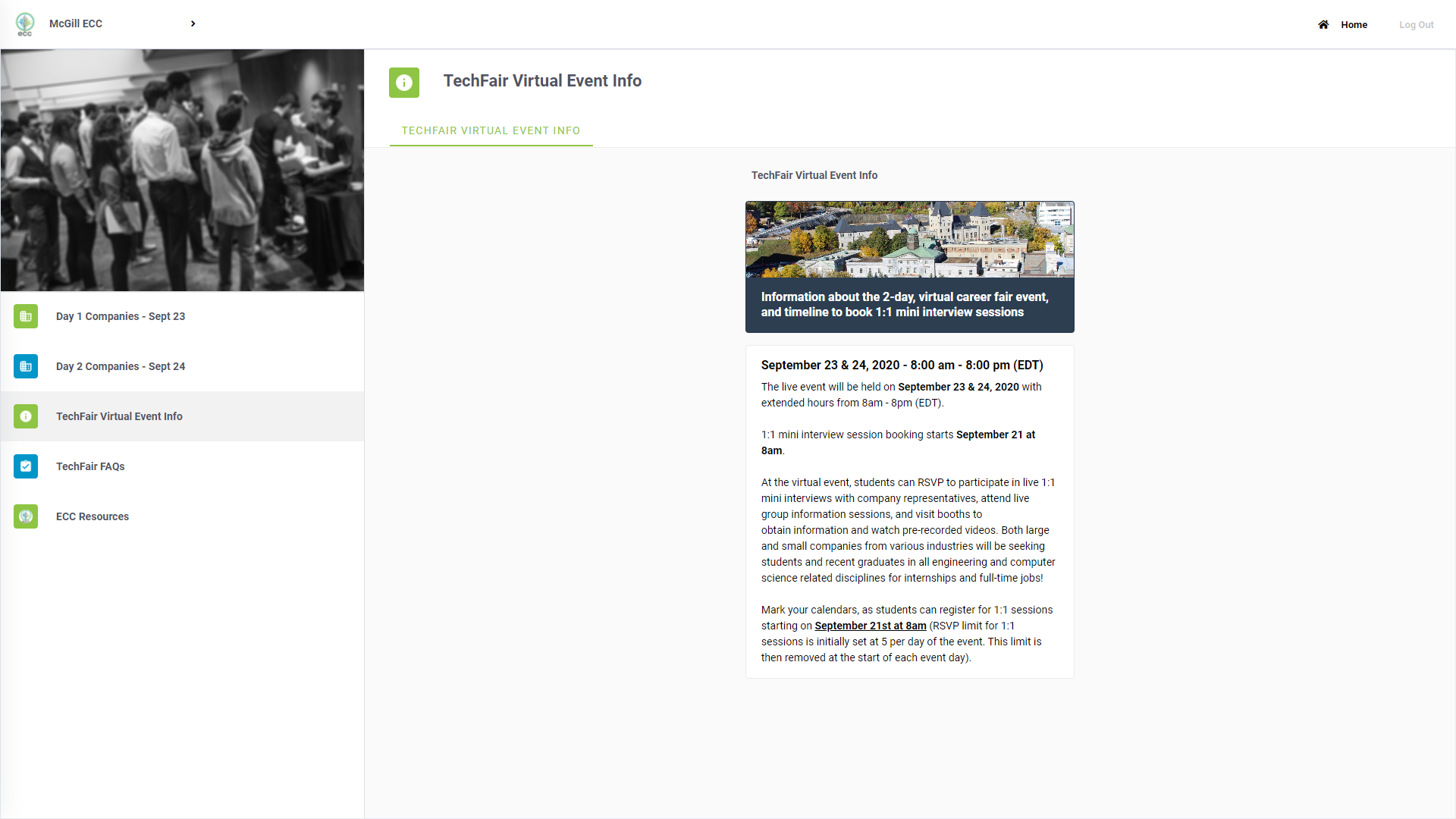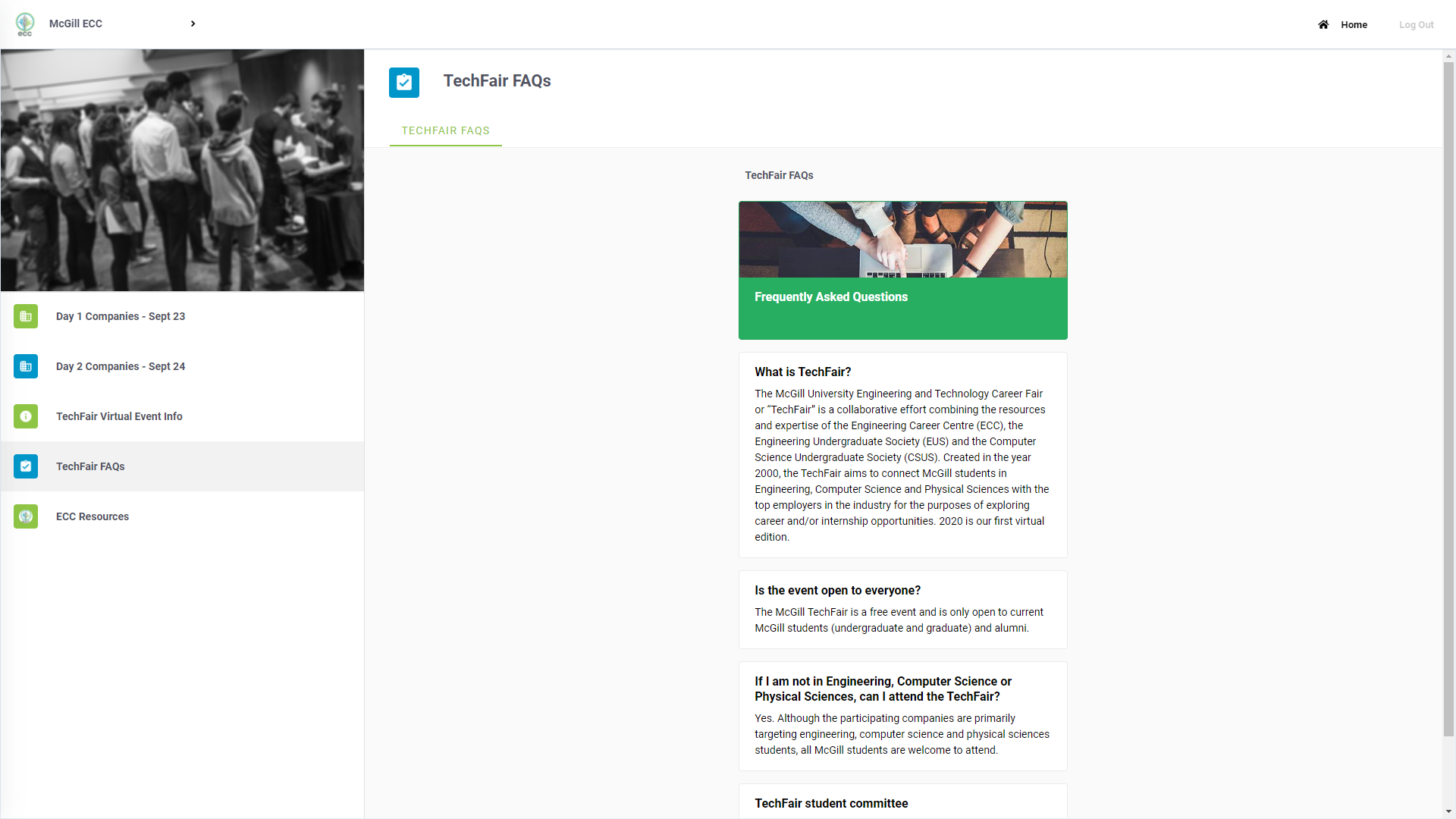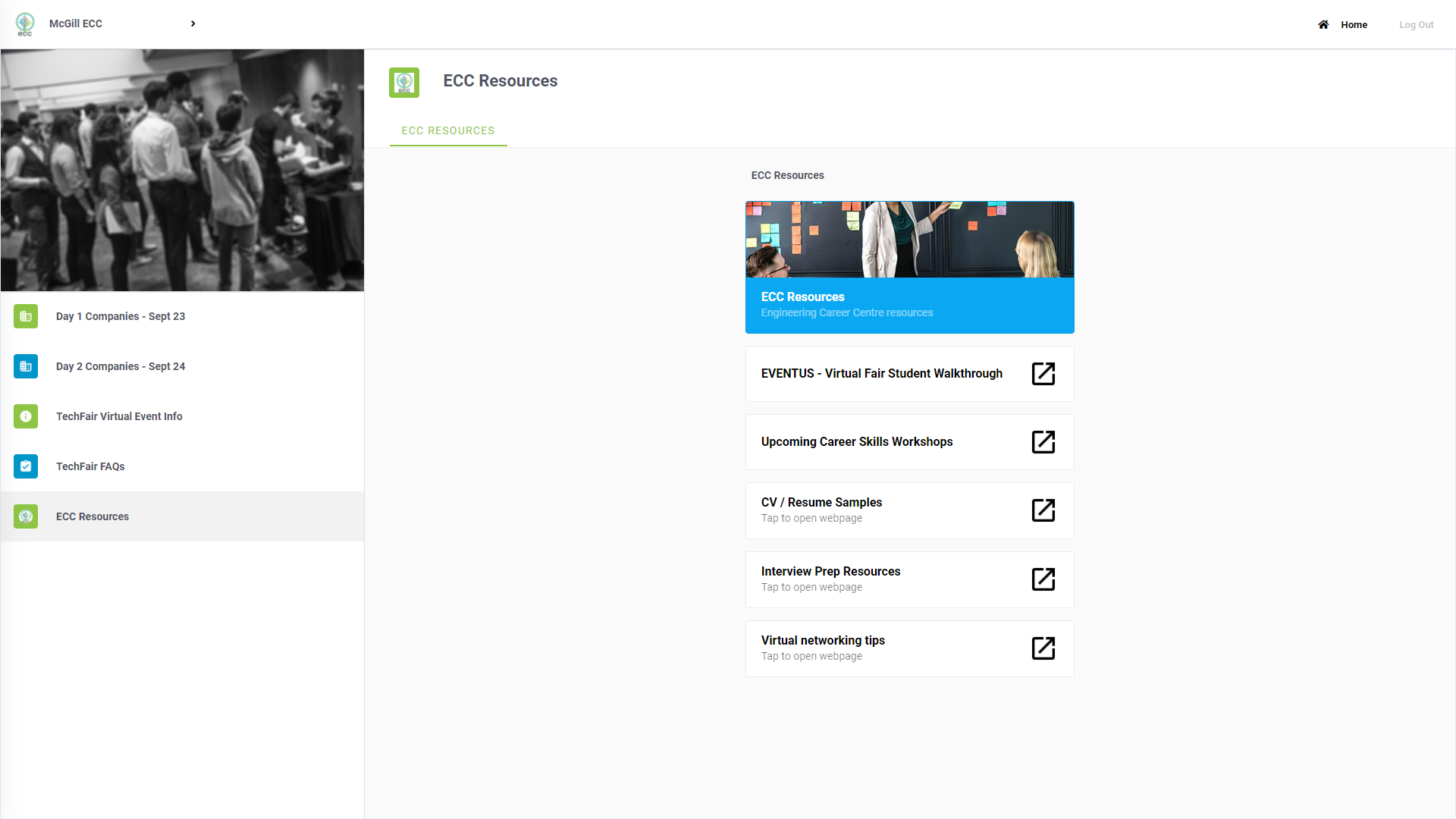 The McGill Engineering Career Fair utilized Eventus's virtual fair product to facilitate student to recruiter connections.
Features included:
Digital Booths
Recruiters could set up digital booths to provide information on their organizations such as job application links, intro videos, company descriptions, etc. for students to access.
Custom Career Profiles
To properly connect to the right opportunities, students created custom career profiles to incorporate things like their resume, linkedin profile, career concentration, etc.
Career Prep Resources
Career prep resources such as dress etiquette, elevator pitch templates, resume tips, etc. were digitized through Eventus for students to access.
Video Chat Pre-Booking
To facilitate face-to-face video chats, students could pre-book video chats with recruiters to build an itinerary for their video chats with recruiters.
Modern Videochat Rooms
Eventus is powered with modern video chat rooms giving a smooth interface for students and recruiters to connect face-to-face.
Booking Reminders
To ensure that video chat appointments were honored, students were given notifications and email reminders for the video chats that they booked.