Background
As a university perennially ranked as one of the top institutions in the world, UChicago is constantly striving to improve upon its student experience.
In 2016, UChicago spearheaded the initiative to create a new mobile experience for students to better connect with the university's resources and campus community. Partnering with Eventus, UChicago launched its College Connection app to offer this modern mobile experience. Along with a more interconnected and informed student body, UChicago was able to make smarter decisions using data provided by the app.
A Traditional Engagement Strategy.
As with most student programming offices, the College Programs office at UChicago was using conventional channels of communication to engage its students. That said, the team understood that in the mobile age their students were increasingly harder to reach. Students today predominantly communicate and consume content through mobile means.
Email campaigns and word of mouth simply weren't good enough. Without a mobile presence, the team was missing crucial opportunities to impact their students. Consequently, the team began the search for a mobile solution that could streamline communications between the college programming office and the student body.
Searching for a Solution
UChicago's College Programs office explored many solutions to address their lacking mobile presence. Before making a commitment, the team wanted to ensure that their mobile presence would not only support their various communication needs but also provide a great user experience.
We noticed that students have become harder to engage through conventional means. To address this, we wanted to try a new approach that would fit what students are familiar with.
- Matt Hendricks, Senior Associate Director of College Programming.
It was understood by the programming team that the eventual solution would need to offer a great user experience; otherwise, students wouldn't be enticed to use the technology.
Along with offering all the capabilities of modern communication platforms such as push notifications, instant messaging, and user profiles, Eventus centered its features around great design and user experience.
Ultimately, the office decided to launch their new mobile initiative with Eventus.
UChicago's New Mobile Presence
UChicago's new mobile presence dubbed the "College Connection App" was thus born. The app was comprised of 3 key components: Event resources, campus resources, and social features.
Event resources
The College Connection app served as the new informational hub for events hosted by the College Programming office. Whether it be an event schedule or event FAQ, all event content could now be distributed conveniently through the College Connection app.
For instance, at UChicago's most recent orientation, the College Programming team went paperless and distributed the orientation's content all through the app.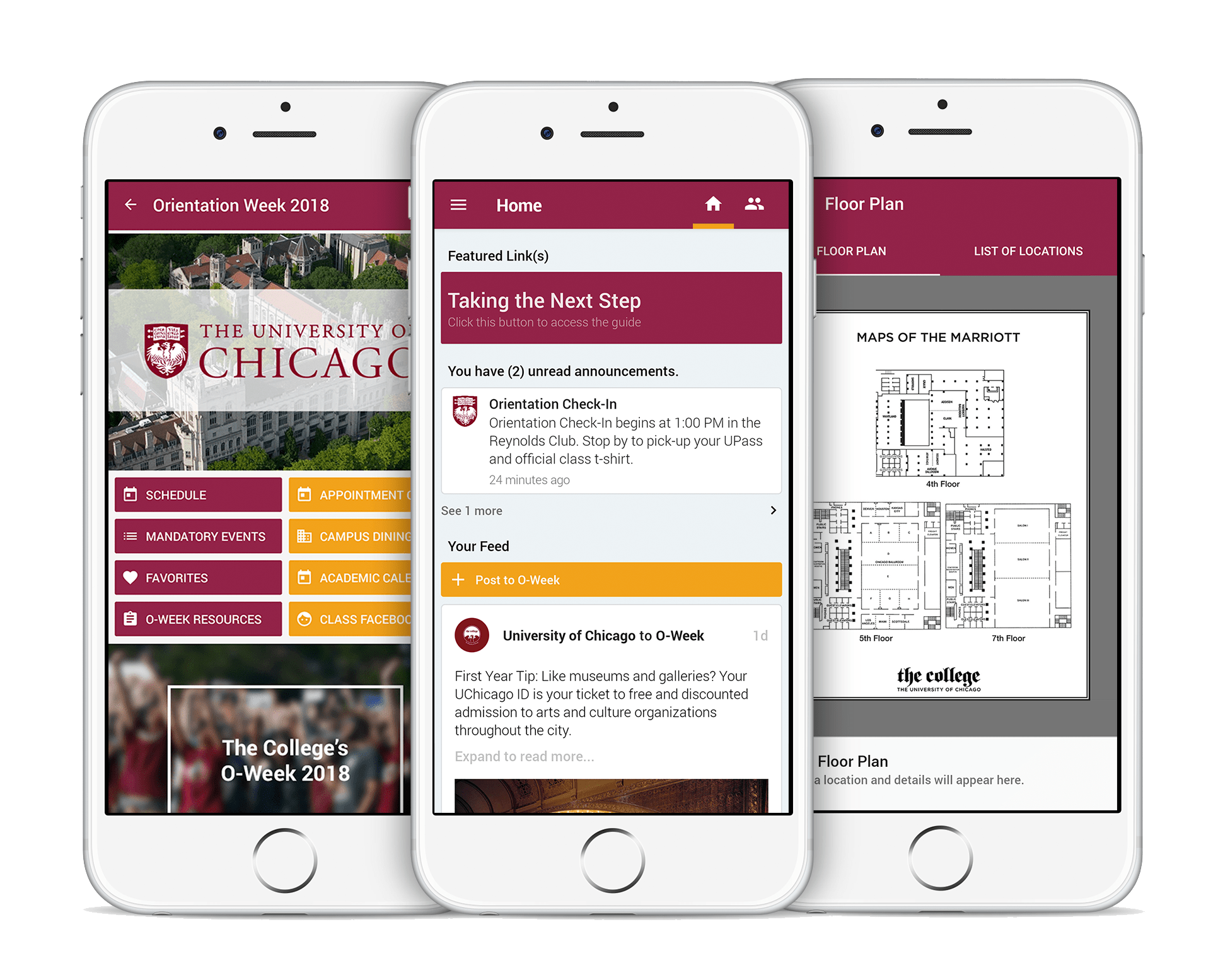 By doing this, the team met the students where they were (on their phones) and was able to gather greater insights on how much event engagement they were getting.
Campus Resources
In addition to event resources, the College Programming team hosted all the campus's resources within the College Connection app. In the past, the team faced difficulty in exposing students to all the resources that the university had to offer; however, with a mobile app that students were bound to use during important campus events, the team had the ability to expose students to the school's resources in convenient fashion.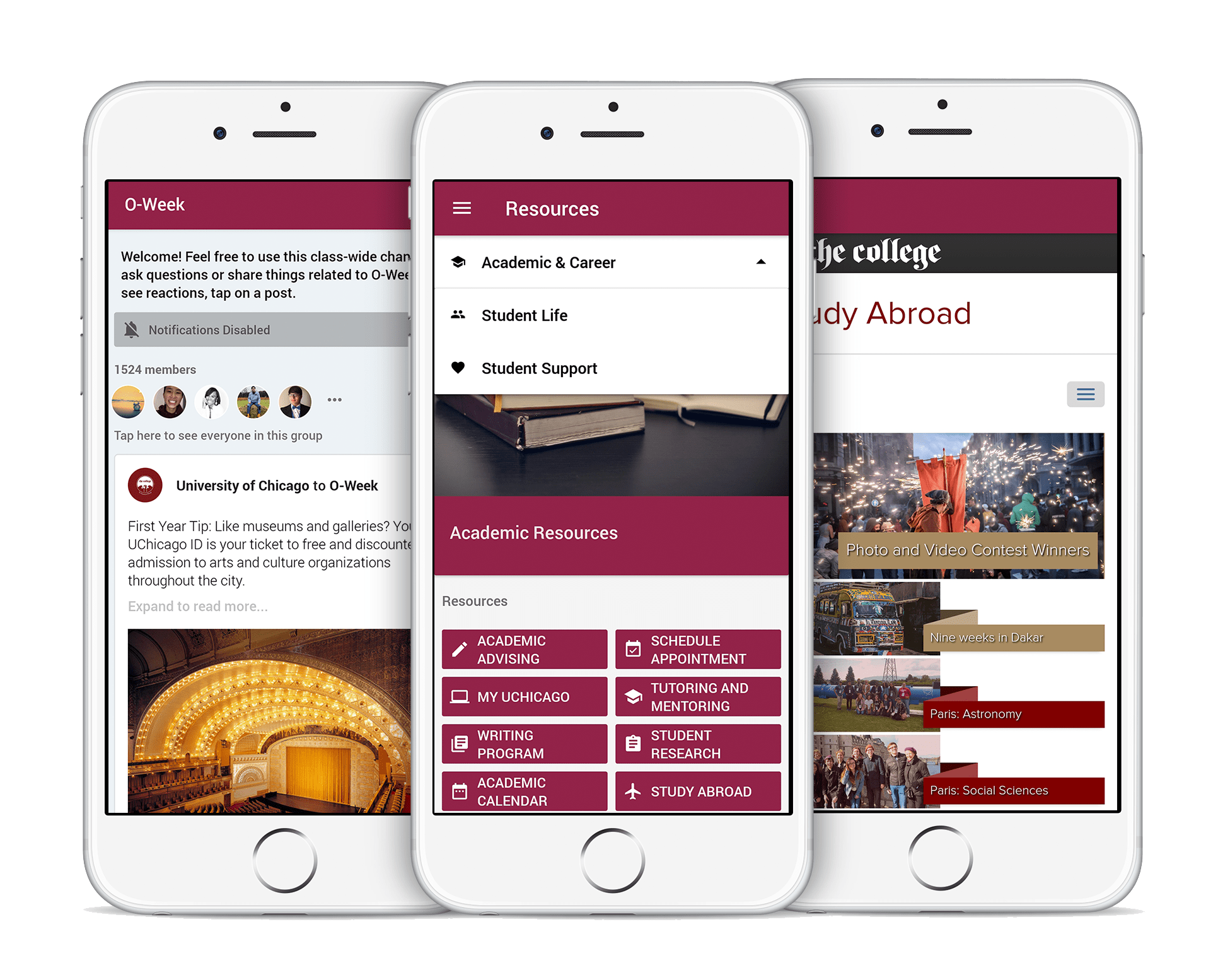 Community Building
In their efforts to modernize the office, an important goal of the team's initiative was to keep building upon a strong sense of community.
With its many social features, the College Connection app facilitates connections within the UChicago student community and serves as an on-campus social network. The College Programming team leveraged these capabilities to connect students to relevant student orgs.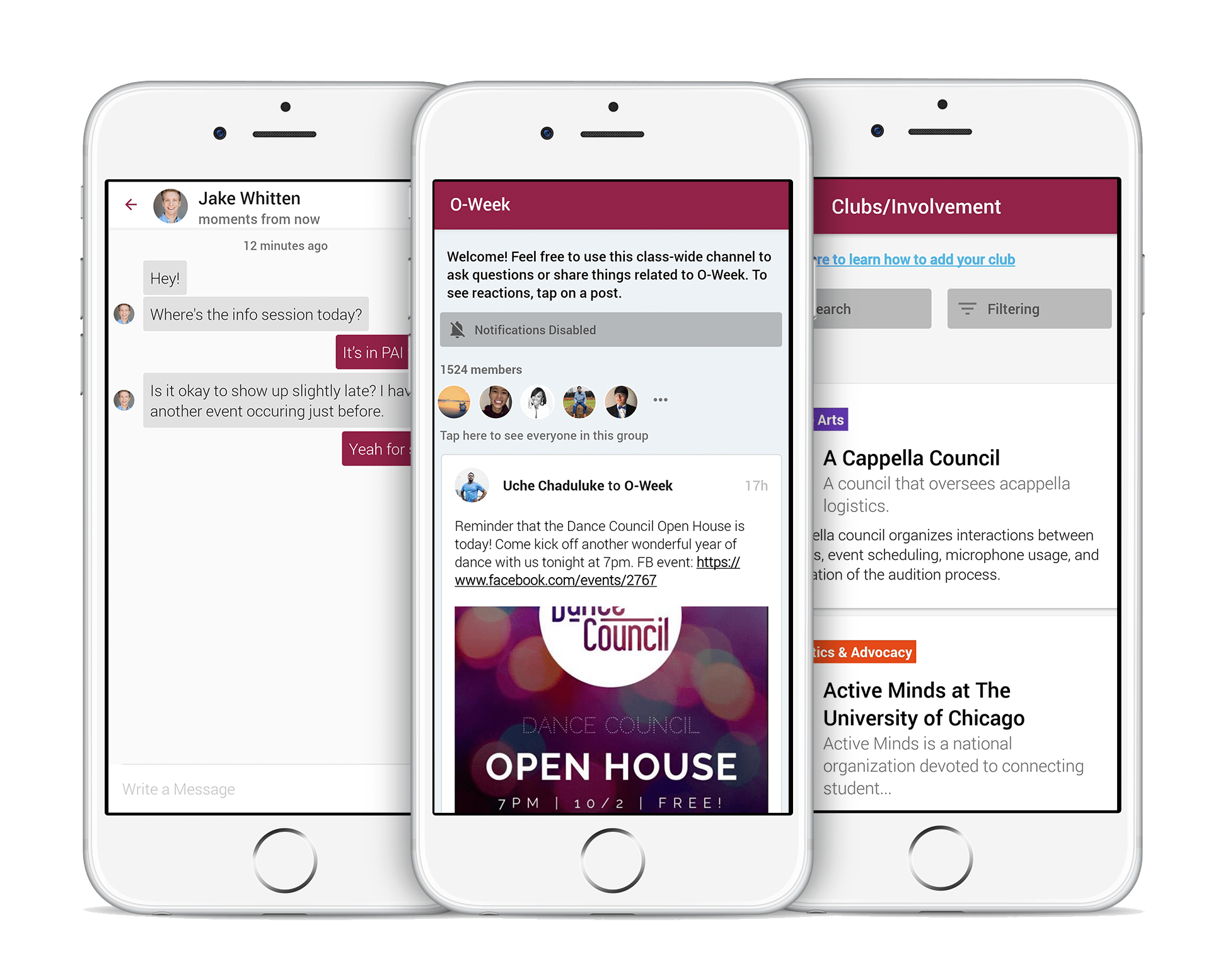 Additionally, students could use their personal interests to self-organize and connect with other peers who shared those interests. Traditionally, a student's social circle consisted of peers in their classes and residence halls; however, the College Connection app removes those constraints and enables students to connect regardless of proximity.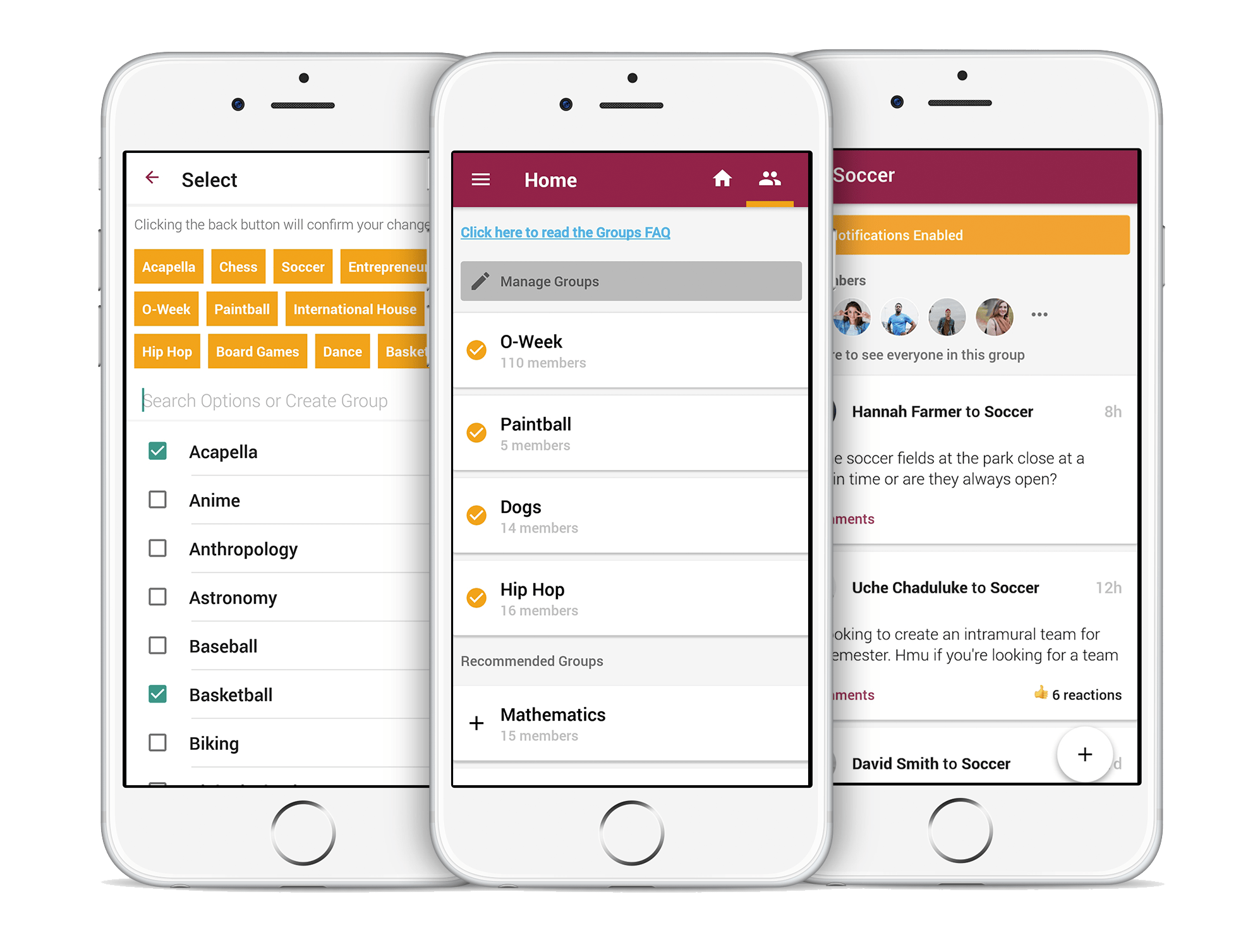 Lastly, to ensure that their communications stayed relevant, the College Programming office utilized the app to send targeted notifications to specific student groups. Whether messaging should be targeted towards first or second years, the team had the option to ensure that their messaging only reached the right students.